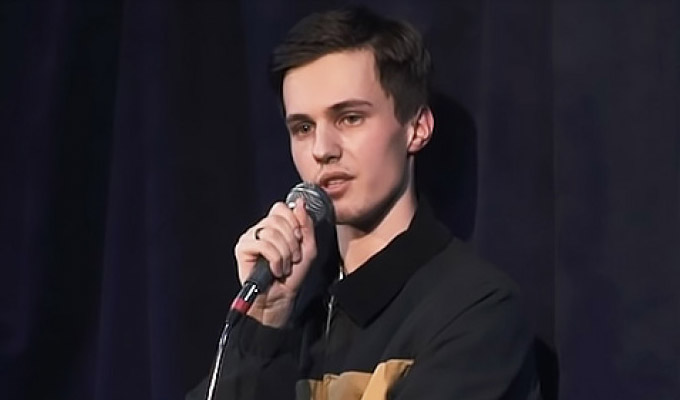 Comic flees Russia as police close in
A Russian comedian has been forced to flee his homeland after his jokes attracted the attention of the police.
Aleksandr Dolgopolov took flight when a man thought to be a undercover officer started making inquiries at the Big City bar in Moscow where he was due to perform last night.
Promoter Armen Gandilyan told the Real Time website that Dolgopolov felt threatened, so hastily left the venue – and the country.
Earlier in the day, the comedian had posted on Instagram a letter that the Ministry of Internal Affairs sent to a venue in St Petersburg where performed early last year, confirming that he was under investigation for his performance there which had been posted on YouTube.
He commented that the missive meant 'we can conclude that Russia is still on its way to a bottomless abyss of madness'.
Dolgopolov jokes about president Vladimir Putin in his comedy, but an interior ministry spokesman told the RBC website that he comic was under investigation for offending religious believers – though the exact nature of the complaint is unknown.
The investigation pertains to his set at the St Petersburg club in April last year, which reportedly includes jokes about why Mary chose the name Jesus, his childhood religious beliefs and the church in general.
He also has quips about the Russian leader such as: 'If Putin issues a decree, ordering all Russians to jump into lava, they will say: "Oh, God, where will we find lava, we don't have it in our yard. What shall we do, our wise chief?"'
Dolgopolov told the US-funded Radio Free Europe: 'I just speak, tell jokes, I didn't plan to be persecuted for just joking. I'm not one of those comedians who directly perform some kind of satire. I'm talking about what I see around, but I have never had such a fierce attitude towards religion or power.
'Comedians usually have no problems. I am a fairly unknown person, and nobody really cares what I do. I think I'm generally ready for this. Although, of course, this is a lot of stress, it is very unpleasant.'
He also said that it was unfair that those who believe in God can take action against those who don't – but atheists can do nothing if they are offended by what a religious person says.
Russia outlawed the abuse of religious sensibilities in 2013 in what critics called a return to the Dark Ages. Those found guilty risk up to three years in jail.
Dolgopolov added that he did not want to flee Russia, both because he would have to learn another language and because 'comedy is developing quite rapidly, and this is the best place for performances in Russian right now'.
In a video posted to Instagram, he added: 'I don't know what's happening. I'm scared, I'm angry, but I'm not surprised. I doubt that police wanted to find out where I live to take a selfie as fans.'
Published: 23 Jan 2020
What do you think?