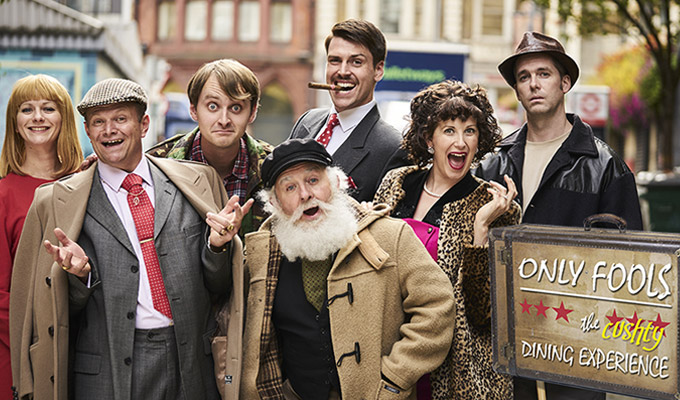 Stop this hooky Del Boy show!
Producers of a 'hooky' live show based on Only Fools and Horses are being sued by the estate of the sitcom's creator John Sullivan.
The writer's son and widow, Jim and Sharon, have issued a writ claiming the Only Fools (Cushty) Dining Experience is ripping off his creations.
They have launched a legal bid to get it stopped under 'passing off' laws, which prevents companies from claiming associations with other brands when they don't exist.
Diners at the dining experience, which tours the UK, enjoy a three-course meal while actors playing Del Boy, Rodney and Uncle Albert play out scenes around them.
Both sides confirmed to Chortle that a writ has been issued.
Interactive Theatre International, which runs the events, told Chortle: 'It's correct to say that the Sullivan estate has issued an action against us alleging passing off and breach of copyright.
'We vehemently deny any wrongdoing. We and our legal team believe the proceedings to be misconceived and will be defending them fully.'
And a spokesman for the Sullivan estate said: 'It's not appropriate to discuss this matter while proceedings are ongoing.'
It is not the first time companies staging dining shows have found themselves in hot water with the creators of sitcoms which inspired them.
In 2016, John Cleese branded such events 'completely brazen, utterly shameless' for ripping off Fawlty Towers.
He said: 'They take our concepts, they take our characters, they take our characters' names and then they change the W to a U and say it's got nothing to do with our show.'
At the time, Interactive Theatre International founder Alison Pollard-Mansergh – which still runs an event called Faulty Towers: The Original Dining Experience – claimed Cleese's comments were 'misleading and inaccurate'.
Lawyers representing Cleese's show have previously threatened legal action agains a rival company, Laughlines, over its dinner show Basil & Co, too.
Laughlines also runs an Only Fools And Horses themed event, Del & Rodney, as well as others based on Allo Allo, Blackadder II and Father Ted.
And 2011 Arthur Mathews and Graham Linehan threatened to sue Laughlines over Father Ted: The Dinner Show, which has since been renamed Ted & Co.
At the time, company director Michael Wilson-Green, who plays Ted and Basil Fawlty said: 'We're only emulating the characters. We change the sketches and it's all improvised.'

Published: 20 Jan 2020
What do you think?