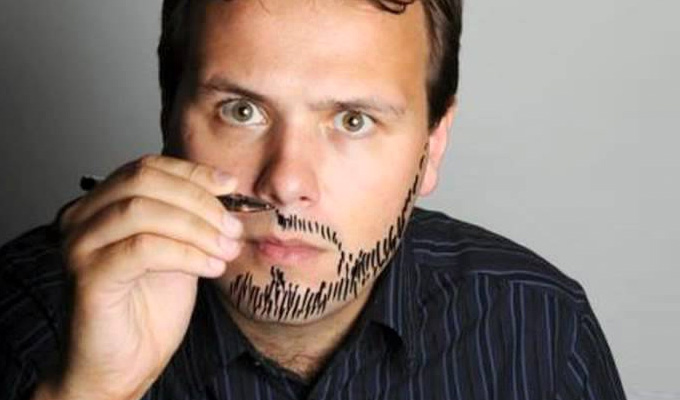 Writers hail John Finnemore
John Finnemore has been presented with the prestigious Outstanding Contribution to Writing accolade at the Writers' Guild of Great Britain awards tonight.
David Tyler, who has produced many of his radio comedies, including Cabin Pressure, handed over the accolade at the London ceremony.
Finnemore said: 'Receiving this award from the WGGB, and therefore from fellow writers, is deeply gratifying... and utterly astonishing. So, to whoever it is they've given it to me in mistake for: I'm very sorry for you, but good luck trying to get it back off me now.'
Dave Cohen, co-chair of the Writers' Guild comedy committee added: 'It's the first time in ages that a comedy writer has won the award and fantastic for John to be recognised in this way.
'John is the only comedy writer to have won the Writers' Guild Radio Comedy Award for two different shows - Cabin Pressure and Double Acts.
'Radio is often overlooked, or treated by writers and producers as a stepping stone to the more glamorous world of TV, but John proves that it's a successful medium for comedy in its own right.
'Many of our most successful novelists, screenwriters and dramatists began writing for radio, and often come back to the form, because it is such a respecter of writing.
'John has proved himself across every kind of radio comedy writing - Cabin Pressure managed to create an alphabet of 26 dazzling episodes within the traditional sitcom form, Souvenir Programme is a sketch show with an astonishing hit rate, while John's Double Acts shows took the one-act story form to new and exciting places.
'John isn't just a great writer and a great performer, although he is clearly both, he is a great innovator. And unusually for this award, he has received it at a relatively early stage in his career. We look forward to many more years of Finnemore genius.'
At the same ceremony, hosted by Katy Brand, Danny Brocklehurst won the award for best TV situation comedy for his Sky One show Brassic, which was presented to him by Paula Wilcox.
Caroline Moran and James J Moran won the best radio comedy accolade for their Radio 4 sitcom Prepper, in which Sue Johnston and Pearl Mackie play a pair of women preparing for the apocalypse.
Best online comedy was awarded to Hannah George and Tasha Dhanraj for their BBC Three sketch titled Side Effects Of The Pill, which was presented to them by John Finnemore. It was the second successive year that the pair have received the accolade.
Writers' Guild president Sandi Toksvig said: 'Congratulations to all the Writers' Guild Awards 2020 winners, it's a sheer joy just to be in a room amongst such wonderful writers. These ridiculously talented people have kept us entertained throughout the year with their brilliant writing, they have brought us much-needed tonic during these challenging times, and we have been spoilt rotten by their wonderful creations.'
Published: 13 Jan 2020
What do you think?