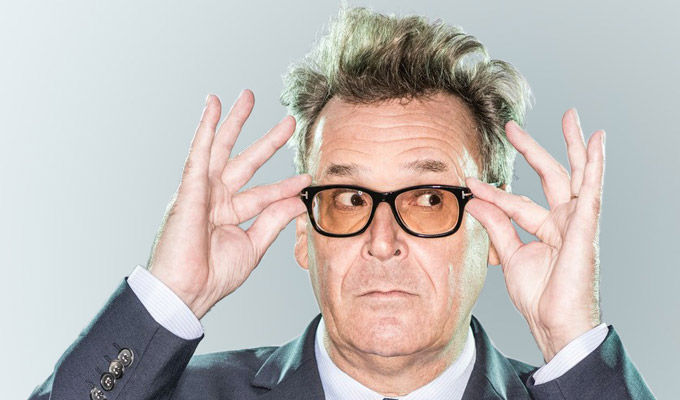 Greg Proops: I won't make jokes about women any more
Greg Proops has said he no longer tells jokes about women – because there are much better targets to take aim at.
The veteran comic and Whose Line Is It Anyway improviser says he's 'evolved' as a comic, and now even female celebrities are off-limits.
Speaking on the Who's The Best? podcast hosted by Hollywood commentator Sandro Monetti, Proops said: 'I've evolved over the years. I used to make fun of Britney Spears and Lindsay Lohan and all that ten years ago when they were really popular – and I just don't make fun of women any more. I've stopped doing it.
'I don't mean they're not fair game for jokes. I just feel like there are so many evil white men out there, I have more targets than I could ever dream of and that's where my focus is now.'
Expanding on the idea of what comics should joke about, the 60-year-old comic added: 'I don't think you should punch down. But this whole argument that PC is ruining comedy. If you feel hampered on stage, that's on you.
'For me, it's a matter of taste and manners. I'd never make fun of anyone who can't punch back. But I think making fun of Nazis and fascists is always good.'
Proops also spoke about the differences between British and American stand-up, having lived in the UK for a few years in the 1990s.
'When I lived there, American comics were thought to be really slick because we do jokes. We go "set-up, punchline, tag, tag, tag, set-up, punchline, tag, tag, tag" and British comics are shambly and rambly and all Alan Davies-y – and I would get up there and go bang, bang, bang here are my jokes.
'I think that's changed, because of American influence and they are exposed to the world they are not quite so shambly as they were.
'British people have a funny expectation where if you do a joke and then tag it, they don't necessarily laugh at all your tags because they feel you finished on your punchline.
'So I would have four or five tags to a joke – like every comic you are trying to wring every ounce you can out of it. But by the third tag, they are like "we've moved on, and it's time you to move on as well."
'The main difference is there's an utter lack of sentimentality in British crowds. They are not sentimental. They don't care it you like the MC. They don't want to applaud for their home town and they don't care what [other people] do for a living, whereas American audiences all want to talk about themselves all the time.
'And never beg for love from them.'
In the episode, Proops, Monetti and stand-up comedian Emilie Hagen debate who is the best comedian - from John Cleese to Peter Cook, Kathy Griffin to Joan Rivers.
They also revealed the result of a survey on comedy audiences in London, Los Angeles and New York for a definitive answer on who is the best comedian. Answer: Robin Williams.
The full episode is here.
Published: 13 Jan 2020
What do you think?