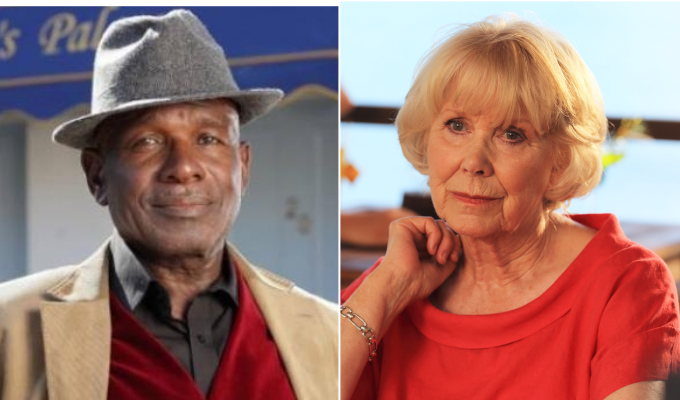 New Year Honours for sitcom stars
Sitcom stars Wendy Craig and Rudolph Walker have been appointed CBEs in the New Year Honours.
Craig, 85, is probably best known for her role as Rita in the 1979-1983 sitcom Butterflies – a suburban housewife contemplating adultery.
For a long time, middle-class housewives were her speciality, having played the role in the BBC's Not in Front of the Children, ran for four series from 1967 to 1970, to ITV's ...And Mother Makes Three, in which she played a single parent.
Other sitcom roles include Annie in Brighton Belles, the UK's short-lived version of The Golden Girls, and playing Reggie Perrin's mother in the 2009 revival.
Craig also starred in the early 1980s drama series Nanny, which she also created, and in ITV's The Royal, while her guest roles include Death In Paradise, above.
She receives her CBE for her services to drama and charity, including being president of Berkshire day centre Elizabeth House for more than 25 years before stepping down in 2014.
Walker, who was made a CBE in recognition of his foundation helping disadvantaged children become actors, is best known for his role as Patrick Trueman in EastEnders.
But one of his earlier roles was in the controversial ITV sitcom Love Thy Neighbour, which played on the exchange of racial insults between a white man and his black neighbour. Walker once described it as being about 'a black guy and a white guy being damned stupid'.
The main white character (Eddie Booth, played by Jack Smethurst) was ignorant and bigoted in contrast with the more tolerant attitude of his wife; while Walker's character Bill Reynolds was better educated, although also stubborn and capable of using terms such as 'honky' in response to racist insults from his neighbour.
His other comedy roles include PC Frank Gladstone in Ben Elton's 1990s sitcom The Thin Blue Line, and the BBC One family sitcom The Crouches.
Walker was previously made an OBE in 2006 for his services to drama
Published: 27 Dec 2019
What do you think?