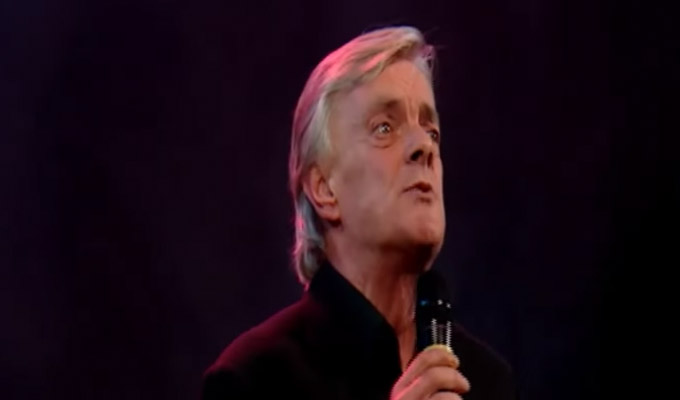 RIP Paul Squire
Mourners will gather today to bid farewell to Paul Squire – a comedian who was briefly one of the hottest properties in TV before slipping into relative obscurity.
The entertainer – who died earlier this month at the age of 69 – shot to fame on 1980s ITV talent show Search For A Star, and after a Royal Variety Performance appearance that year landed his own primetime programme, The Paul Squire Show.
After two series he moved to BBC for Paul Squire Esq, which aired at 8.20pm on six Saturday nights in 1983, before making a final series for ITV, PS It's Paul Squire, which aired in a teatime slot.
But after that he vanished from TV screens entirely, appearing only in pantomimes, on the woking men's club circuit and as a cruise ship entertainer.
In a 2008 interview, he said that he never wanted the pressures of fame, having seen as a child the once legendary Tommy Trinder dying on stage at a Billingham club and having to argue for his full fee.
'I remember thinking, "How dare they do this to this man,"' he told the Shropshire Star. 'And maybe I decided then that I wouldn't get that big that I could get knocked down. Maybe that's in my subconscious, I don't know. Freud could answer that.
'I was told many years ago by a very old pro, "Paul, the best place to be on any bill is the support act. Close the first half and you've got all of the plaudits and none of the critics."
'I've never sought out fortune and fame. I've always been a turn. I love the term because basically it means 'I do what I do what I do'. I'm an entertainer and I enjoy being an entertainer, I really do, but as for the stars in my eyes, I'm not really that bothered.'
But he did notch up some showbiz stories during his brief time in the spotlight, recalling meeting James Cagney and saying 'the stupidest thing in my life – "I've never seen you in colour."'
He also met Sammy Davis Jr backstage at the Royal Variety Performance and asked him to sign his programme. 'Only if you'll sign mine,' said the American. 'So I signed his book,' Squire recalled in the Shropshire Star interview. 'And my hand was shaking as I wrote, "To Sam…"
Because of his reputation for short-lived fame Squire also has the dubious honour of being immortalised in a Young Ones sketch just a year or two after his heyday. In he final episode of the alternative comedy sitcom the characters are playing a 20 Questions-style guessing game, and Rik Mayall chose to be Squire, to the bafflement of his housemates.
Squaire had started his career as a nine-year-old boy, performing a cabaret act called The Millionaires with his brother and sister around the Northern English club circuit, before they split in 1977 for him to follow a solo career.
As well as his TV work, he appeared live with the likes of Bob Monkhouse, Bernard Manning and Bill Haley.
He died on December 4, with tributes being paid on Twitter.
Author Rob Cope said: 'Very sad to hear we have lost the great comedian Paul Squire. A lovely man and huge talent who had his own series on both ITV & BBC. Always a star in the eyes of those who worked with him. RIP funny man.'
Comic and after-dinner speaker Lee Goode said: 'So sad to hear of the passing of Paul Squire. He was a top turn. Great comic, impressionist and a belting singing voice. Loved his showbiz stories and he did Les Dawson better than Les himself. RIP Esquire.'
Derren Brown's manager Michael Vine called him a 'muti-talented performer' adding: 'Paul Squire was a rare pro. A multi talented performer coming out of a family of performers. He exploded onto our screens and few could match his versatility. Showbiz is forever changing and, one hopes, advancing however, we will not see his like again.'
Squire's and his funeral takes place at 12.30pm today at Mountsett Crematorium in Dipton, County Durham.
Here he is making his breakthrough appearance on the 1980 Royal Variety Performance, introduced by the then 90-year-old Stanley Holloway, the humourist known for his comic monologues such as The Lion and Albert.
And here's a trailer for a DVD recorded at the South Shields Customs House in 2010.
/p>
Published: 20 Dec 2019
Recent News
What do you think?