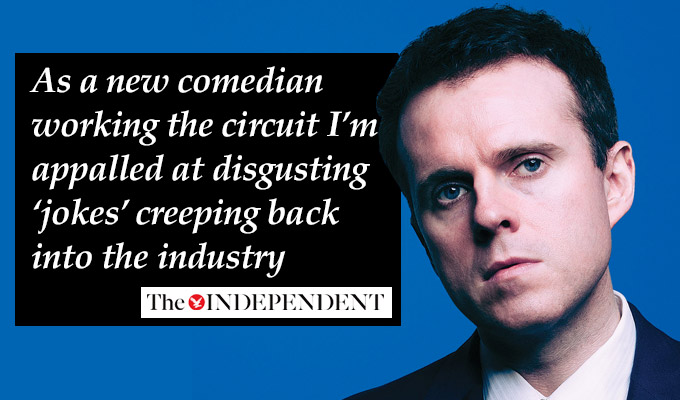 Hoax! Truth behind 'hate speech in comedy' article revealed
Andrew Doyle has admitted to writing a hoax article which slated the stand-up circuit as a hotbed of racism and sexism.
The piece caused controversy when it was published by The Independent in February. It was allegedly written by a new comedian called Liam Evans who described how appalled he was at material he'd heard on stage.
Although many took it at face value, questions were asked about the article at the time, Now Doyle – who is also behind the woke parody Titania McGrath – has confessed he was behind it.
He said it was so clearly a hoax, but suggested the newspaper published it without doing enough checks because it fitted the 'social justice ideology' which he says has 'infected' the mainstream media.
The article criticised comedians such as Ricky Gervais, Dave Chappelle, Louis CK and Fin Taylor, calling for hate crime laws to apply to all comedians. 'Crying "free speech" isn't good enough,' it concluded.
It was originally headlined: 'As a new comedian working the circuit, I'm appalled at disgusting 'jokes' creeping back into the industry'... prompting accusation that the newspaper was playing into alt-right stereotypes of humourless liberals.
But questions were immediately raised over the writer's identity, as there was no record of Evans ever having played a gig, nor could any stand-up recall working with him.
Stewart Lee and Kevin Eldon were among those who wrote to The Independent's executive editor, Will Gore, demanding to know what checks had been carried out on the writer.
Chortle has seen emails from Gore in which he defended the piece, saying : 'I'm confident he has done some comedy…. I've no reason to think Liam isn't a real person… The suggestion I have seen elsewhere that it is so outlandish that it must be false, is bizarre. I also reject absolutely the notion that this was "fake news".'
The newspaper then quietly changed the start of the headline on its website to:read 'As a comedy aficionado…' The article is still online at the time of writing
Doyle revealed himself to be the article's author in a speech he gave at the Speaking Truth to Social Justice conference, which he uploaded to his YouTube channel yesterday.
He listed signs that it was 'clearly a hoax', such as the 'flagrantly authoritarian' style of the article. Evans had stated that some of the jokes he'd heard on the circuit 'should be subject to investigation' and punishment under hate crime laws.
'A number of prominent comedians complained to The Independent asking why they were publishing such clearly fabricated stuff. And that is a good question,' Doyle added.
'What has happened to our media? Why is a respected national newspaper publishing drivel from a writer that no one has ever heard of just because it's pushing a woke agenda?'
Ultimately, he pointed to a clue hiding in plain sight.
'I do not want to speculate as to the authorship of that article but I would point out one thing which I do find a little bit curious,' he said. 'If you take the fourth letter of every sentence in that article, it actually spells out the phrase "Titania McGrath wrote this you gullible hacks".' Which it does.
Earlier, he had reflected: 'A major publication is happy to publish any old nonsense so long as it is sufficiently woke. The social justice ideology has infected our mainstream media and irreparably degraded its standards. That's what these hoaxes reveal.'
Doyle also claimed that traditional media 'fabricates outrage' by picking up tweets with very little engagement, amplifying them to create 'woke nonsense.'
A spokesperson for The Independent said: 'As when anyone raises an issue with any piece we have published, we will investigate this matter, in compliance with our editorial code. This article was published 10 months ago, and this issue has not been raised before.'
When Chortle pressed her on the fact that the suspicions it was a hoax were raised at the time, she added that: 'It has never been suggested to us that a specific named comedian – namely, Andrew Doyle – was "behind" an alleged "hoax" of this publication.'
Here is Doyle's conference speech:
- by Jay Richardson and Steve Bennett
EDITED 13/12 to include Gore's emails and the Independent's explanation of what they meant by 'this issue has not been raised before'.
Published: 11 Dec 2019
Recent News
What do you think?