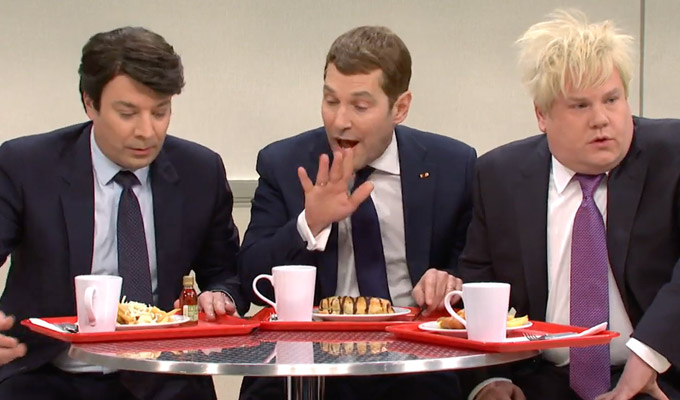 James Corden makes his Saturday Night Live debut
James Corden has got a new gig – playing Boris Johnson on Saturday Night Live.
The comic made his debut on the US institution last night in a sketch last night set in the cafeteria at the Nato conference.
He appeared alongside Jimmy Fallon as Canada's Justin Trudeau and Paul Rudd as France's Emmanuel Macron.
The three of them ganged up on Alec Baldwin's Donald Trump, who was expelled to the losers' table, in a high-school take on the gossip caught on microphone at the gathering in Watford this week.
In the skit, Boris shunned his old pal Trump to hang out with the cool world leaders... though he absolutely didn't fit in there, either, despite his obvious desperation to be included.
Later in the sketch, Trudeau and Macron attempt to peer-pressure Johnson into holding a house party at Buckingham Palace, and goad him to attach a sign reading 'IMPEACH ME' on to Trump's back.
Corden later tweeted that os was 'a dream come true' to appear on the show, adding: 'I loved every second.'
Here's the sketch, which was the NBC show's traditional 'cold open' to kick off the programme:
Published: 8 Dec 2019
What do you think?