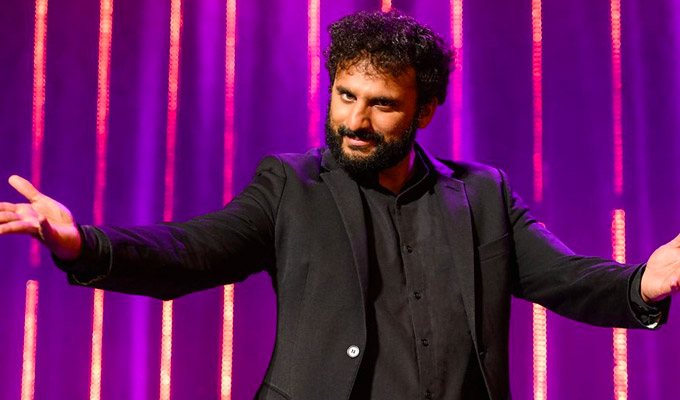 Unsportsmanlike behaviour!
Nish Kumar has been booed off stage at a charity night after making jokes about Brexit.
The Mash Report host stood his ground against a chorus of jeers at the Lord's Taverners Christmas lunch – a cricketing charity aimed at helping disabled young sportspeople.
According to one report, he was also pelted with bread, but the comic posted on Twitter: 'In my defence, it was only one bread roll and it missed me.'
Radio One DJ and Lord's Taverners ambassador Greg James apparently reprimanded the thrower. And Mike Selvey, the former chief cricket correspondent at The Guardian, tweeted that it was 'disgraceful behaviour'.
Kumar's set was reportedly going well until he made jokes about Brexit and former Commons speaker John Bercow, who was there.
Although the content of his act should have come as no surprise, footage from the set posted on Twitter shows Kumar facing down a barrage of disapproval of the crowd.
He insisted: I'm not going anywhere. Absolutely not. I'm full Bercowing it. Absolute Bercow. I know you want me to do it but I'm not gonna leave. Absolutely not. Absolutely not.'
The master of ceremonies then intervened to escort him off stage, saying: 'Ladies and gentlemen, Nish gave his time to come and support this charity today, and I think the very least we can do is say thank you for doing that.'
The £149-a- head event raised £160,000 for charity.
A man absolutely died on stage 🤦🏼‍♂️ pic.twitter.com/WPCbpKEUHk

— Jon Austin 🤔 (@JonCAustin) December 2, 2019
Published: 3 Dec 2019
Recent News
What do you think?