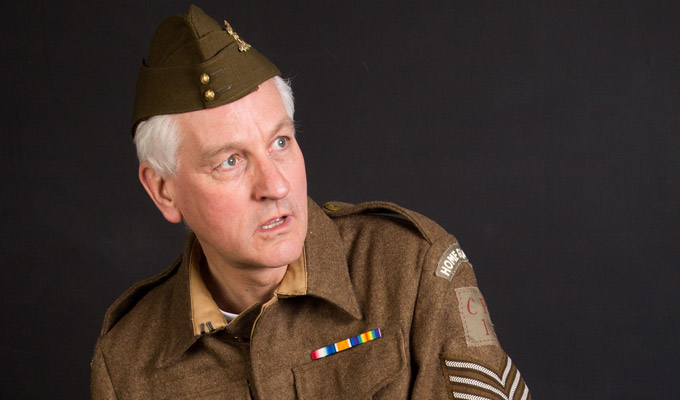 'I say, would you mind terribly returning my stolen Dad's Army costume?'
It's probably not the sort of clothing you'd normally associate with a couple of Essex thieves.
But a perfect replica of a 1940s Home Guard uniform used in a tribute show to Dad's Army star John Le Mesurier, has been stolen.
Now actor Julian Dutton has launched an appeal for the return of the costume, as well as other props and personal items that were taken from the backstage area at Colchester Arts Centre on Sunday night.
He had packed up all the items, including an original 1970s phone and his laptop, projector, phone and wallet after a performance of his touring show Do You Think That's Wise?
But in the 15 minutes he took to fetch his car, two opportunistic thieves spotted the stage door was open and took the lot.
'There's CCTV footage,' Dutton told Chortle. 'I've watched it and there's this clear image of the two making off with a heavy suitcase that contained all the Dad's Army props, the costume, and my laptop, phone and projector. My entire life has been stolen.
'The costume was an exact replica of a 1940s World War Two Home Guard uniform, right down to the correct badges.
'It cost be £400 to £500 from a specialist website, but I can't see how it would be of any use to anyone unless they were planning a rival John Le Mesurier tribute show.'
However, Dutton says he's already received offers of help from Dad's Army fans.
'Turns out there are dozens of people who have this uniform,' he said. 'And some have offered to let me borrow it for the rest of the tour. That's very kind.
'I've been bowled over by the nice response. The thieves also took a beautiful 1972 phone, but someone's offered to lend me a replacement of that, too. It's amazing.'
Dutton admits he was too distraught to do much in the hours immediately after he theft, but on Monday morning he sprang into action.
'I called all the Cash Converters in the Colchester area giving the serial numbers of my laptop and projector,' he said. 'They told me crooks wouldn't be so stupid as to take the stuff to a local shop.
'But at noon someone tried to sell them my projector - so I've got that back. And with CCTV of them taking the stuff and trying to sell it, the net is closing.'
He is hoping to recover the items before his next show, in Banbury on October 25, but joked that if he can't 'God knows what I'm going to wear… I may very well go on in a bikini.'
Dutton has ten more dates of Do You Think That's Wise?, before his next project, a Last Of The Summer Wine tribute show.
'If someone wants to steal the costume for that, go ahead,' he joked.
Anyone with any information about the Colchester theft should contact Essex police on 101.
Dutton also said he hoped the stolen items could be returned to the arts centre.
• Our review of Do You Think That's Wise?
Published: 15 Oct 2019
What do you think?