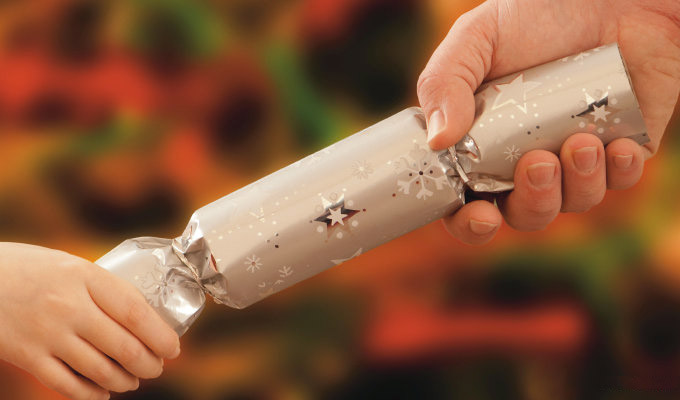 Have you got a cracker of a topical joke?
⬛ PROMOTIONAL FEATURE
The Gold TV channel has announced the return of its annual national joke competition to discover the best new Christmas cracker gags.
As usual, judges are seeking the most original festive jokes that draw on the news agenda or pop culture across the past year such as Brexit chaos and Theresa May stepping down as Prime Minister, vegan sausage roll and England winning the Cricket World Cup.
Last year's winner was: 'What does Donald Trump do after he pulls a cracker? Pays her off' and the previous year it went to: 'Why was Theresa May sacked as nativity manager? She couldn't run a stable government.'
It is the seventh year of the competition, inspired by the statistic thay Britons will pull an astounding 300 million crackers this Christmas.
The 2019 competition is open until 11.59pm on Sunday October 27, and can be entered by tweeting new, original and funny Christmas jokes with the hashtag #GoldCrackers.
The winner will receive £1,500 holiday vouchers from Trailfinders and a festive hamper, as well as having their joke included in their own personalised set of crackers.
Nine runners-up will each receive a festive Christmas hamper, and a box of bespoke Gold Christmas crackers, which includes the top six winning jokes.
The best jokes will be shortlisted by a panel led by comedy critic Bruce Dessau, who said: 'I'm sure we'll all agree that 2019 has been one of the maddest yet. But despite all the ups and downs, we can usually still find something to crack a smile about. I can't wait to see what comic gems emerge from this year's Gold's Christmas Crackers competition – I think we all deserve a laugh.'
Gerald Casey, Gold channel director, said, 'From the Brexit rollercoaster to the Cricket World Cup and some great TV moments along the way, comics certainly aren't short on inspiration this year. We had some fantastic gags in 2018, so we're expecting even more hilarious one-liners this year.'
HOW TO ENTER
Open to all UK residents aged 18 and over, to enter please:
Follow @GoldChannel and tweet a Christmas-themed joke via your personal Twitter account including #GoldCrackers
Jokes must be original content and suitable for a family audience (eg no swear words)
The joke entry must be included within one tweet (ie not be more than 280 characters), including #GoldCrackers
Multiple entries are allowed
All entrants must follow @GoldChannel (so we can notify the winners) - but the @GoldChannel Twitter handle does not need to be included in the joke entry
Competition ends at 23:59 on October 27, 2019
For further information on the terms and conditions, please visit https://gold.uktv.co.uk/article/gold-crackers-2019-tcs/
Published: 9 Oct 2019
What do you think?