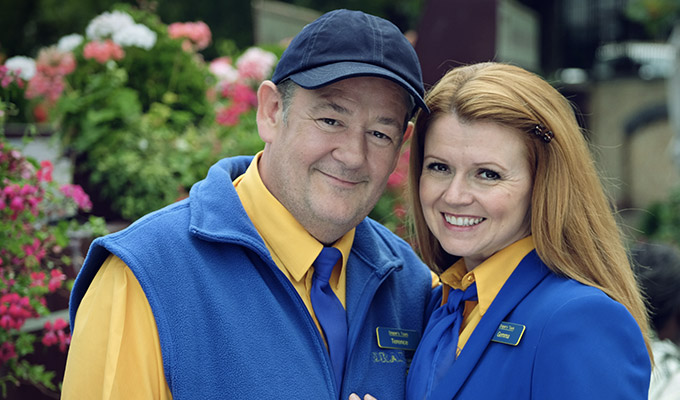 Stars join Gold's next whodunit
The cast has been announced for Gold's next murder-mystery spoof Dial M For Middlesbrough, including Jason Donovan, Sally Lindsay and Joanna Page.
It is third feature-length special starring Johnny Vegas as coach driver Terry and Sian Gibson as tour guide Gemma.
Also joining the cast are Ambreen Razia, John Macmillan, Annette Crosbie, Phil Davis, Mike Wozniak, Selina Griffiths and Jason Forbes.

Due to air in December, Dial M For Middlesbrough puts Gemma and Terry in jeopardy when their coach breaks down in the middle of a fierce thunderstorm while en route to collect Mildred (Sheila Reid) and Hilda (Georgie Glen).
They are forced to seek refuge in the mysterious Shady Creek Caravan Park, where they meet site owners Evie (Sally Lindsay) and Jed (Phil Davis), extraordinarily clumsy chef Susan (Joanna Page), events manager and 1990s throwback Darren (Jason Donovan), gorgeous American tourist Chad (John Macmillan), and long-term park resident Edna (Annette Crosbie).
More recently arrived on the scene are holiday prize-winners Phil (Jason Forbes), who struggles to get a word in while his other half Penny (Ambreen Razia) struggles to stop words coming out, and excitable birdwatchers Neil (Mike Wozniak) and Mary (Selina Griffiths).
Written by stand-up Jason Cook, the Agatha Christie-inspired whodunnits have been ratings hits for Gold.
The first outing, Murder On The Blackpool Express, was the most watched show ever on Gold with 1.8 million viewers tuning in during the first week. Its 2018 sequel Death on the Tyne, was watched by 1.1million viewers during the first week.
Published: 9 Sep 2019
Recent News
What do you think?