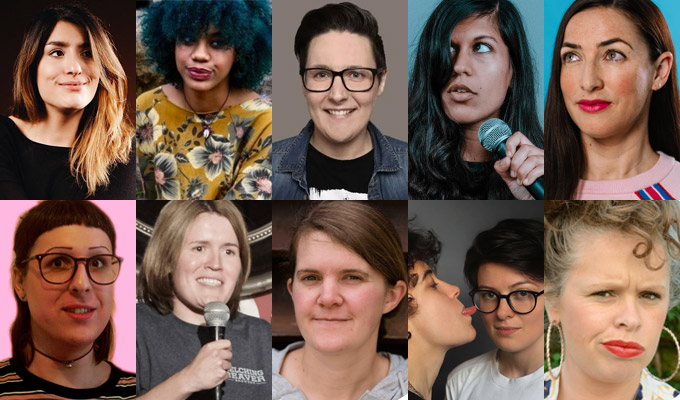 Funny Women announces its 2019 finalists
Funny Women has announced the finalists for its Stage Award for live comedians.
The 433 entrants have now been whittled down to Celya AB; Kemah Bob; Sian Davies; Charlie George; Liz Guterbock; Jen Ives; Helena Langdon; Sarah Mann; Shelf, and Laura Smyth.
The final will be at the Bloomsbury Theatre, London on Thursday September 19, hosted by Katy Brand. Winners of the Comedy Shorts and the Comedy Writing categories will also be announced on the night.
Funny Women chief executive Lynne Parker said: 'I've seen the comedy circuit grow and expand in diversity since our very first event in 2002, and women have made a huge contribution and impact on the artform. This is the 16th time we've run the Funny Women Awards and our final, as ever, is a rich melting pot of talent. '
Here's a brief profile of all the finalists;
Celya AB
Office worker from Paris
Comedy heroes: Maria Bamford, Bill Hader, Kate McKinnon, and the French acts Les Inconnus Pierre Desproges (French)
Kemah Bob
A comedian from Houston, Texas, who runs the FOC It Up! femmes of colour comedy night
Comedy heroes: The women producing A Black Lady Sketch Show for HBO. Absolute legends.
Sian Davies
A retail coffee specialist from Liverpool and founder of the Best in Class initiative to try to promote more working-class comedians
Comedy hero: Caroline Aherne
Charlie George
A sales manager from Swindon, who was placed third in So You Think You're Funny? at the Edinburgh Fringe.
Comedy hero: Maria Bamford
Liz Guterbock
A voice-over artist from Visalia, California
Comedy hero: Jen Brister
Jen Ives
A comedian and writer from Catford, South London
Comedy Heroes: Sarah Silverman, Vic & Bob, Steve Martin
Helena Langdon
A copywriter from Maidenhead, Berkshire
Comedy heroes: Josie Long, Amy Poehler
Sarah Mann
A musician and comedian from Hereford
Comedy hero: 'My friend Emily'
Shelf
Aka: Online content creator Rachel Watkeys Dowie and data analyst Ruby Clyde from London London
Comedy heroes: The Pin, Ellen, Mighty Boosh, Claire Dowie.
Laura Smyth
An English teacher and mother of three from Forest Gate, East London
Comedy hero: Jennifer Saunders
Published: 27 Aug 2019
Recent News
What do you think?