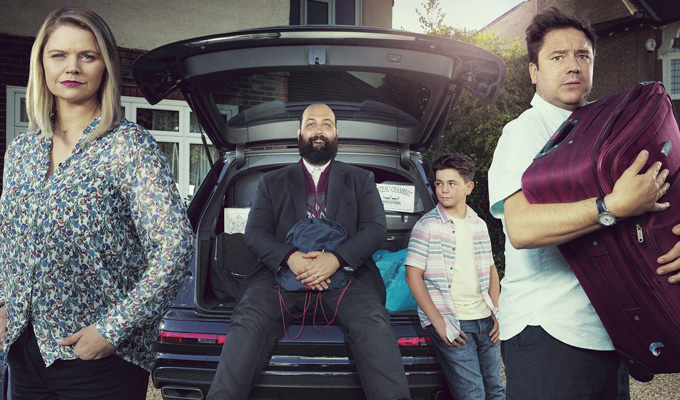 Home again
Rufus Jones's asylum seeker sitcom Home is returning for a second series, Chortle can reveal.
The first series followed Sami (Youssef Kerkour), a Syrian immigrant living with Peter (Jones), Katy (Rebekah Staton) and her son John after hiding in their car in Calais – but left on a cliffhanger as to whether he would be allowed to stay in the UK.
Rufus Jones, who also wrote the series, said: 'I'm absolutely made up that Channel 4 have allowed us to continue charting Sami's journey through our quite operatically dysfunctional society.
'Sami will strap on his sandals and show us more of what makes our country ridiculous, tough and - just occasionally - great. That's all the information I can give you right now.
'The response to Series One has been rather overwhelming and - on a personal note - the chance to work with the team again is a dream come true. Yalla!'
Fiona McDermott, head of comedy at Channel 4, added: 'Home is such a special show. It takes on some pretty big, often bewildering issues and makes them accessible, human and incredibly funny.
'That it manages to be both audacious and tender in the process speaks volumes for the deft talents of Rufus and the whole cast and crew. We couldn't be prouder to bring this timely and quietly powerful show back.'
Speaking about his plans for further episodes, Jones told Digital Spy in March that 'you don't want to take big swings in terms of talking about the explicit political environment because it's just changing so quickly, but there are mainstays which you can be confident will still be there tomorrow, like refugees having a mixed time of things. That is something that, in a fairly sobering way, sort of serves the show.'
The first series began in March, in the slot immediately after Derry Girls, and the first episode attracted 1.25million viewers.
It a critical hit, with The Guardian calling it 'beautifully written, wonderfully cast and incredibly timely, it manages to say more about the current state of the UK than any number of documentaries'.
The Radio Times praised Jones's 'excellent script', adding that 'the show is packed full of excellent one-liners and set pieces, and frankly we'd love to quote large chunks to demonstrate just how hilarious it is – but we cannot do justice to the comic timing and delivery of Staton, Jones and Kerkour.'
The i paper was more measured in its four star review, calling it 'a rather gentle, unobtrusive variation on the sitcom theme' but declared Kerkour's performance 'excellent'.
You can read Chortle's review of the first series here.
-by Jay Richardson
Home production credits

Written by: Rufus Jones
Directed by: David Sant
Made by: Jantaculum and Channel X
Commissioned by: Fiona McDermott, Channel 4 head of comedy, and Laura Riseam, commissioning executive
Produced by: Adam Tandy
Executive producers: Alan Marke and Jim Reid.
Published: 20 Aug 2019
What do you think?