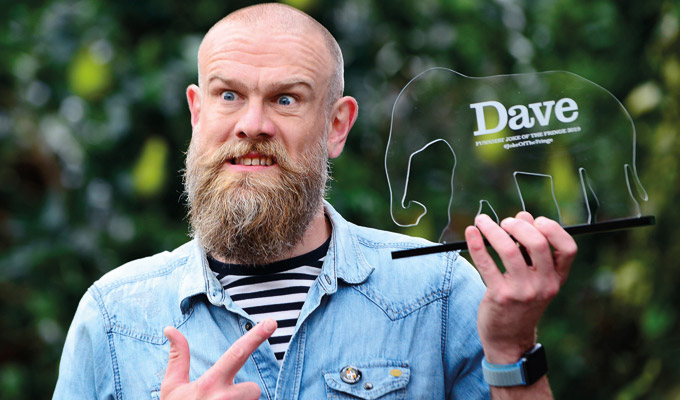 Broccoli pun 'is offensive to Tourette's sufferers'
It might seem like a harmless pun – but the line named 'joke of the Fringe' today has been slammed as offensive.
A charity for people with Tourette's syndrome has demanded Swedish comedian Olaf Falafel apologise for his award-winning joke: 'I keep randomly shouting out "Broccoli" and "Cauliflower'"- I think I might have florets.'
Tourettes Action said it was 'so disappointed' with the gag, chosen by a poll conducted by
TV channel Dave from a shortlist compiled by comedy critics.
The charity tweeted: 'The joke was about #Tourettes - not vegetables. Why is it still OK to joke about disability, or more alarmingly provide a platform to further perpetuate tired, stereotypical jokes that only reinforce stigma?'
Chief executive Suzanne Dobson said the 'rubbish' joke had brought 'shame on Dave'.
She told the BBC: 'Humour is a great way of educating people - but not only is it not funny to poke fun at people with Tourette's, it's not even that funny a joke, is it?'
She said the charity's helpline had several calls on Monday from parents of children with the syndrome who were upset by the joke.
Tourette's sufferer Paul Stevenson, who appeared on the BBC programme Employable Me agreed, tweeting: 'Living with Tourettes is no joke!'
But not everybody backed the charity's stance. Thomas Sampson tweeted: 'Anyone that can take the piss out of my autism and make me smile about it is welcome to do so. My disability does not define me, control me or changed my sense of humour. Shame on you for not promoting the same approach and disposition.'
And Richard Fuller said: 'Do you really think you will gain the support of the general population by making a stand against a joke that is a pun on a word and not a medical condition? You need to pick your battles better.'
Read the Top Ten jokes of the Fringe, according to the Dave award, here.
Published: 19 Aug 2019
Recent News
What do you think?