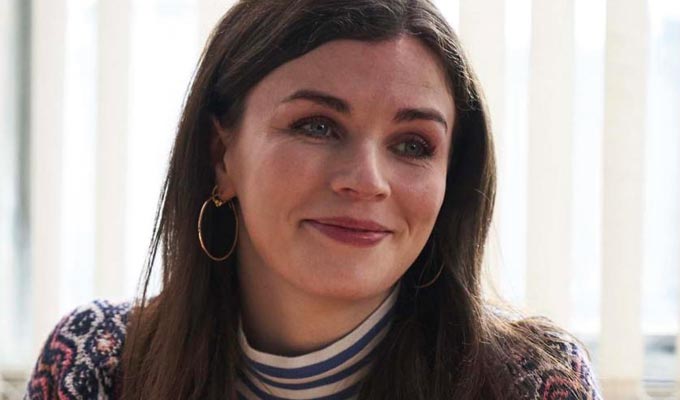 Aisling Bea joins Who Wants To Be A Millionaire drama
Aisling Bea has been cast as an ITV executive in a new drama about how Charles and Diana Ingram attempted an 'audacious heist' on the quiz show Who Wants to Be a Millionaire?
The pair were accused of cheating their way to £1million on the show in 2001, with the aid of an accomplice coughing in the audience.
The Queen director Stephen Frears is now telling the story in a three-part drama, Quiz, which will air on ITV in the UK and AMC in America.
It stars Matthew Macfadyen as Major Charles Ingram, Michael Sheen as Chris Tarrant and Sian Clifford as Diana Ingram,
Bea – whose show This Way Up is currently airing on Channel 4 – will play as ITV entertainment commissioner, Claudia Rosencrantz, who now runs Jamie Oliver's media operations.
The cast also includes Catastophe's Mark Bonnar as Celador Television chairman, Paul Smith, Helen McCrory as Sonia Woodley QC and Michael Jibson as the Ingram's co-conspirator Tecwen Whittock.
Writer James Graham has adapted Quiz for ITV from his Oliver-nominated play of the same title. He said: "I was gripped by this story over 15 years ago, and I'm still gripped now. It's a very English heist.
'Putting it onto stage at Chichester and the West End was such a lot of fun, and with a new team we now get to re-imagine the whole story afresh for television.
'I have to pay credit to the late investigative journalist Bob Woffinden, who along with James Plaskett wrote the book Bad Show that kicked the whole creative process off by asking the question – what if the Major is innocent?'
Polly Hill, who commissioned the series for ITV, said: 'It's an extraordinary and thoroughly British story and is going to be a real treat for our audience."
Sarah Barnett, of AMC Networks said: 'If this tale was invented you'd think it too preposterous – the fact that it is true, and told so brilliantly, makes for an unmissable three-part TV event that will entertain and enthral Americans audiences every bit as much as their British counterparts. 'lighted to be part of it.'
Filming is currently under way in London.
Published: 16 Aug 2019
What do you think?