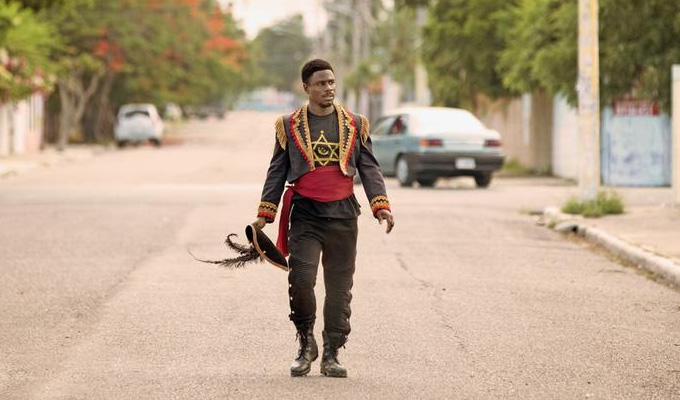 'Institutionalised paranoia has corrupted us'
Chris Morris has spoken about his new film, The Day Shall Come, as the first trailer has been released.
The comic thriller will be released in cinemas on October 11, and is said to be 'based on 100 true stories' as it 'exposes the dark farce at the heart of the homeland security project'.
It stars relatively unknown Marchant Davis as Moses, an impoverished Miami-based preacher with mental health issues who is trying to start a race war to overturn white dominance. However – with echoes of Four Lions – his army comprises just four people and he has mental health issues.
But when he comes to the attention of eager FBI agent Kendra Glack, played by Anna Kendrick, she and her boss try to manufacture Moses into a threat so they can bring him down and claim a victory.
Morris says: 'The story that kicked off this film was like a brick hurled from Miami to London. It was a lie that I didn't know was a lie and it resulted in a farce about paranoia, deception, delusion and injustice that reflects an unfortunate truth: Finding a real terrorist is harder than creating your own.'
The story that inspired him was when Attorney General Alberto R. Gonzales announced in 2006 the arrest of an army of terrorists in Miami vowing a 'full ground war against the United States.'
Morris said: 'Two years later in Washington DC I met a witness from the resulting trial and discovered this terrifying coup would have been pulled off by seven construction workers riding into Chicago on horses.
'The idea was a fantasy, spun to make money. They had no guns - and no horses. An FBI informant had offered them $50,000 to attack America. They were broke, so they riffed ideas until he was happy. They claimed they could knock over the Seers Tower, swamp the city with a tidal wave, and seize control by riding in like cavalry.
'The government presented it as an Al Qaeda plot bigger than 9/11. These guys weren't even Muslims, they were Haitian Catholics. It took three trials to find them guilty. They were all jailed as terrorists.'
The group became known as the Liberty City Seven. They were members of a bizarre cult called the Universal Divine Saviors, who wore uniforms bearing a Star of David and met for Bible study and martial arts practice
Morris added: 'I discovered this was not a freakish one off. Since 9/11 it has become standard operating procedure. Informants encourage a person of interest to break the law and when they do, the FBI arrest them. Each plan is put together with the federal attorney. Arrest is delayed until the case will play in court. So the conviction rate is 98 per cent. The typical sentence is 25 years.
'Investigating Attorney General Gonzales' international lie took me all over America. I met families of people who'd been jailed, their lawyers, FBI informants, prosecutors, police, sheriffs and FBI agents. I discovered the legal technicalities and the workplace dynamics. I got to know neighbourhoods and people in places like Detroit, Orange County, Chicago and Washington DC.
'These stories were compelling and often absurd. The contrivances were comic. The repeated story is a cat and mouse game where the mouse doesn't even know the cat exists…
'The Day Shall Come reflects how institutionalised paranoia corrupts our thinking. Throughout the West, the global War on Terror, now so baked in it no longer requires a name, has eroded freedoms it was declared to protect.
'The film tells the story of a person walking blind into a false reality programmed to blow up in his face. That person is a fringe preacher called Moses. The false reality is created by the FBI and written like a script. Moses has no idea this is happening or that their plotline ends with him in jail.
'With his wife Venus, Moses runs a mission offering local youth salvation through religion, education, self-empowerment and farming. Their hero is the Haitian slave rebel General Toussaint.
'This is their life, these are their troubles. Here is Moses preaching on Facebook Live about righting the wrongs of history. Here is the FBI watching him, wondering if he is a threat, asking themselves a question that leads only one way: What if we do nothing - and this guy tries to destroy America with his army of four grown-ups and a kid?'
The Day Shall Come - co written with Peep Show's Jesse Armstrong– also stars Orange Is The New Black's Danielle Brooks as Venus, Fonejacker's Kayvan Novak, stand-ups Jim Gaffigan and James Adomian, Rupert Friend, Denis O'Hare, and Pej Vahdat.
It had its world premiere at the SXSW festival in Austin, Texas, and critics gave it a broadly warm reception. The Guardian' gave it four stars, saying: 'Morris handles a delicate balancing act with an expected ease, the work of a satirist with so much to say yet with an awareness that saying less leads to so much more.'
The Hollywood Reporter said the movie is 'smart, bitterly funny and probably too true for most Americans to bear' and Screen Daily praised it as a 'tart and unvarnished view of the savage, sweary machinations of power and the expendable status of the powerless'.
Published: 7 Aug 2019