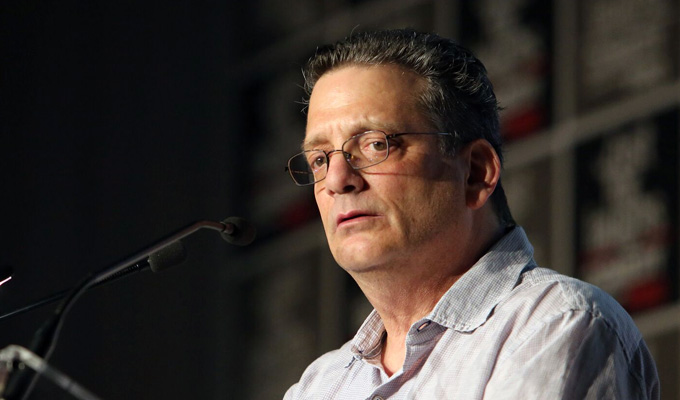 Kevin Hart? There are flaming balls of hydrogen that aren't trying that hard to be a big star
He is, according to his warm-up Ron Funches, 'one of the best comedians in the world - don't let your ears or the laughter tell you otherwise'.
And today at Montreal's Just For Laughs festival, Andy Kindler delivered his 24th annual 'state of the industry' address, skewering some of comedy's most powerful executives and comedians far more successful than he.
Even Kindler describes the lecture as 'the cowardly rantings of a bitter man', and notes that he's now done as many of these sessions as there have been James Bond films. 'But James Bond gets to kill his enemies. I get to avoid my enemies at auditions.'
However his speech – equal parts self-deprecation to career-torching insults – is always a popular draw among fellow comics and the industry.
Here are some of the best lines from the talk:
On his long-running feud with Ricky Gervais
I'm no longer interested in fighting with Ricky Gervais. I just realised we are complete opposites. I started out as a monster and became funny.
On the reality show Bring The Funny
They got the audience to shout: 'Bring the funny!' Is this really something we really want to train audiences to chant? I'd rather have them shout: 'Send them back.'
Why don't we have a show where we judge the judges? Call it Can You Handle The Funny or Do You Recognise The Funny? Let's get Simon Cowell on Let Me Hear You Sing, Asshole.
On Kevin Hart
There are flaming balls of hydrogen that aren't trying that hard to be a big star.
On Mindy Kaling
I'm not sure what bothers me about Mindy Kaling but I'm pretty sure it could be all of her work
On James Corden
Why not have Carpool Karaoke in the garage with the door shut?
On those who complain about 'snowflakes'
There are a lot of old white guys complaining about how easy it is to offend people these days. It was always easy, just now they can tell you about it
On Entourage star Jeremy Piven starting a career in stand-up
Nothing says 'no one will work with me' more that the late in life start of stand-up.
Just as patriotism is the last refuge of a scoundrel, stand-up is the last refuge of an asshole.
On Jeff Dunham
Have you seen Yesterday? I pitched a very similar movie about a struggling ventriloquist who after a thunderstorm finds there's no Jeff Dunham and so starts doing his act – and ends up being ostracised by his entire family for being a racist, and a terrible, terrible human.
On his own career:
Recently, I've been playing a lot of escape rooms. They don't start out that way.
Published: 26 Jul 2019
What do you think?