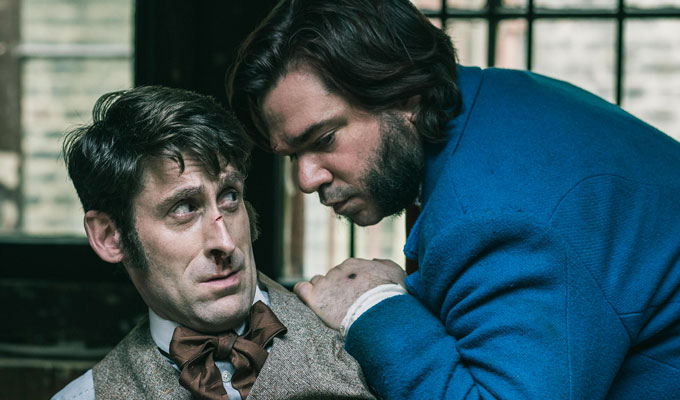 Work starts on Year Of The Rabbit series 2
Work has begun on a second series of Matt Berry's Victorian cop comedy Year of the Rabbit.
Tonight's first series concludes with a cameo by a Jemaine Clement and a strong suggestion of further instalments.
The second series is yet to be officially announced by Channel 4 but writers Kevin Cecil and Andy Riley are already 'sketching out' future storylines.
'It's a lot of work, so it's not like we've got all the stories [planned out] until we get the nod,' Riley told Digital Spy. 'When we get the nod, we will be working those out in earnest.'
Cecil added: 'We've got to sit down with Matt, and get Matt's take, and get his ideas. We've done some work [on series two] and there's a lot of work still to be done.'
Riley also confirmed their intentions for scheming villain Lydia, played by Keeley Hawes, revealing that they want to 'bring her back at some point in the future.
'We don't yet know how much and in what capacity, because we haven't written it yet. But it's nice to have [that option]. We do kill off quite a lot of people, and we don't want everyone dead.'
Co-starring Susan Wokoma and Freddie Fox as Rabbit's fellow detectives, the series also featured Sally Phillips, Paul Kaye, Matthew Holness, Jill Halfpenny and Taika Waititi – who created Berry's US comedy What We Do In The Shadows with Clement – in guest roles.
Last month, the sitcom incited Nigel Farage enough to demand its censorship, after it showed a right-wing politician named Neil Fromage being assassinated by a sniper.
Year of the Rabbit began with an audience of more than 1.2m viewers but that had dropped to less than 800,000 viewers by the fourth episode.
Nevertheless, the series was generally well received by critics, with the Guardian concluding that it was 'regularly rejuvenated by an endless supply of lewd expressions accompanying ever more ludicrous plots, the Victorian police spoof is winning more and more hearts by the week.'
In a five-star write-up, The Mirror called it 'the best new comedy of 2019 … gloriously stupid, tightly written, superbly acted and absolutely filthy'.
The i was more circumspect, reflecting that 'at times, it feels like an excuse for a marvellous cast to ham it up with some daft capers but for the most part this is great, lively fun'.
And the Observer was less impressed: 'Even Matt Berry couldn't save Year of the Rabbit from itself … it wanted to be Ripper Street with giggles. It ended up being the Two Ronnies' "phantom raspberry blower of old London town" with, astonishingly, fewer laughs. And much much filth. The gags, it seems in hindsight, were all about disability, prostitutes and mud, and all done with a certain frenetic foul-mouthiness substituting for actual humour.'
Read Chortle's four-star review here.
- by Jay Richardson
Published: 15 Jul 2019
What do you think?