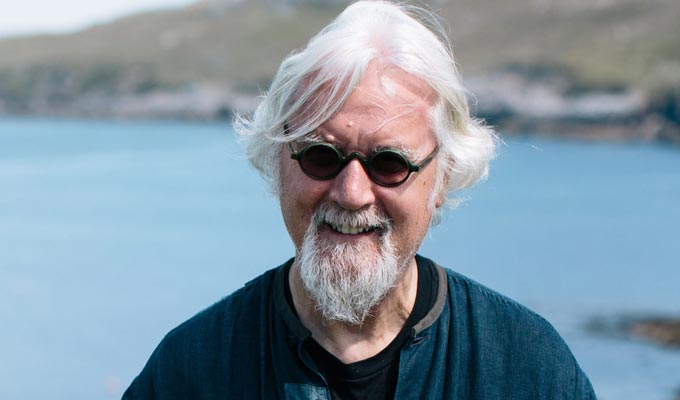 Billy Connolly's routines to be published in a book for the first time
Some of Sir Billy Connolly's best comedy routines are to be published in a new book.
Despite a 50-year stand-up career, the stories he tells on stage have not previously been released in text form.
But in October, publisher Two Roads will release Tall Tales And Wee Stories, featuring classic yarns such as Last Supper, Jojoba Shampoo, Incontinence Pants and Shouting at Wildebeest.
It will come almost a year after the Big Yin announced his retirement from stand-up last December after a career that took him from playing the banjo at Scottish folk clubs to international fame.
Connolly will be writing a new introduction for the book, which will be illustrated by his artwork.
According to the blurb: 'Billy's routines always felt spontaneous. He improvised, embellished and digressed as he went: a two-minute anecdote could become a 20-minute routine by the next night of a tour. And he brought a beautiful sense of the absurd to his shows as he riffed on holidays, alcohol, the crucifixion, or naked bungee jumping.
'But Billy's comedy could be laced with anger too. He hated pretentiousness and called out hypocrisy where ever he saw it. He loved to shock, and his startling appearance gave him license to say anything he damn well pleased about sex, politics or religion. It was only because he was so likeable that he got it away. Billy had the popular touch. His comedy spanned generations and different social tribes in a way that few others have ever managed.'
Sir Billy himself said: 'It's weird, I don't really tell jokes, like Irish jokes and all that, I tell wee stories.
'I've been asked many times to put them down in a book and I've always refused. It didn't seem right because as long as I was still performing live then I was still playing around with my stories – pulling them apart, twisting them around, improvising and improving.
'But in December of last year, I decided to retire from live stand-up. So, this feels like the right moment to put these stories down, once and for all. It's always been a pleasure talking to you. I hope now it'll be a pleasure reading me.'
Click here to order Tall Tales And Wee Stories.
Published: 12 Jul 2019
What do you think?