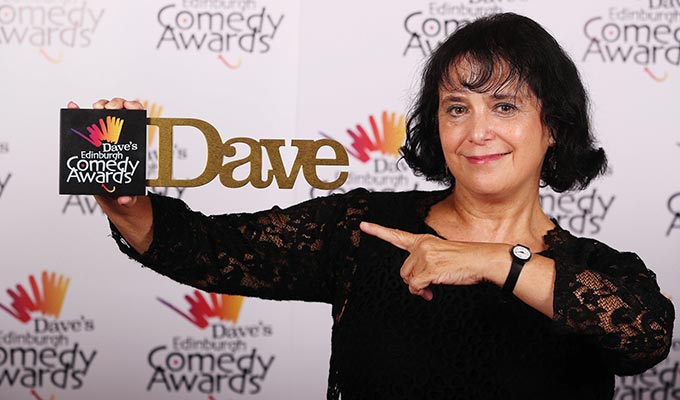 Dave sponsors the Edinburgh Comedy Awards
TV channel Dave is to broadcast daily updates from the Edinburgh Fringe after signing a new deal to sponsor the comedy award.
The broadcaster says it wants to become 'as synonymous' with comedy as the prize's original sponsor, Perrier, and has committed to a 'multi-year' deal.
For 2019, Dave will broadcast two-minute shorts from the festival every day for at least the last two weeks at either 9pm or 10pm – with channel director Luke Hales saying he hopes to do more in future years.
And next year will be the awards' 40th anniversary, offering the opportunity for retrospective programming about how comedy has changed over the decades.
However at a launch event for the newly named Dave's Edinburgh Comedy Awards this morning, Hale would not be drawn on how long the sponsorship deal might last, saying only that it was for more than two years, nor offer any precise plans for programmes to tie in with it.
'We're not just badging it, it's a genuine partnership,' he said.
And he said he hoped the shorts would capture the spirit of the Fringe. 'Edinburgh is bonkers and trying to get that feeling on screen is important to us,' he said. 'The fact we haven't nailed down [exactly what the broadcast plans are] is sort of the fun of the partnership.'
He explained that there would be lots of on-screen branding and that they had considered long-form programming but had not had the time to put it in place, as the contracts had only recently been signed. Also, the sponsorship would not obligate any winners to work with Dave, so the comics would be free to make programmes with other broadcasters.
In a statement announcing the new sponsorship, he added: 'We spend a lot of time talking to our audience about what they want from both comedy and Dave, and one of the most common responses is asking to be introduced to new comics – so partnering with The Edinburgh Comedy Awards feels like the perfect way to help us discover even more new talent.
'We want to make sure Dave is immersed in fresh comedy in the real world, as well as on television. We love the Edinburgh Fringe Festival here at Dave, and this year, wanted to build on our involvement alongside Dave's Joke of the Fringe.'
Challenged over whether the name Dave might be seen to promote a certain type of blokeish comedy, Hales said the issue had been vexing the company.
But he said the channel was making strides to offer a wide range of comics: 'The industry is not the most diverse, and you have to push a bit harder to make it representative,' he said. 'Unlike previous sopnsors we have an ability to deliver something.'
Nica Burns, the director of the Edinburgh Comedy Awards who is pictured above with the new trophy, said: 'Many of our nominees, from James Acaster, to Nish Kumar, Sara Pascoe, Romesh Ranganthan and Lucy Beaumont are stars or panelists on Dave's original comedy strands. We are looking forward to a great partnership and announcing our first Dave's Edinburgh Comedy Award nominees and winners.'
She added that a record 750 comedy shows were in contention for the award this year, and all would be seen by scouts or judges.
The number of comedy shows in the programme is up two per cent on last year, and now comprises 37 per cent of the Fringe.
Last year's best show winner was Rose Matafeo, with Ciaran Dowd best newcomer and The Home Safe Collective, a fund which provides cabs home for vulnerable comedians, scooping the panel prize for encapsulating the spirit of the Fringe.
Click here for all the previous Edinburgh Comedy Award winners and nominations.
Perrier created the award in 1981 as a way of supporting young talent, with the inaugural £1,000 prize presented to the Cambridge Footlights troupe which included Stephen Fry, Emma Thompson, Hugh Laurie and Tony Slattery.
A Best Newcomer award was added in 1992, and in 2006, the inaugural panel prize was given out. These are currently worth £5,000 each with the best show award worth £10,000.
Perrier ended their association in 2005, with sponsorship then passing to the Scottish-based bank Intelligent Finance for three years. In 2009 Burns funded the awards herself after a sponsor could not be found.
Foster's lager took over from 2010 until 2015, then lastminute.com from 2016 – although last year they decided not brand the awards with their name because their corporate strategy had changed.
This year's nominations will be announced on Wednesday August 21, with winners announced on Saturday August 24.
Published: 11 Jul 2019
What do you think?