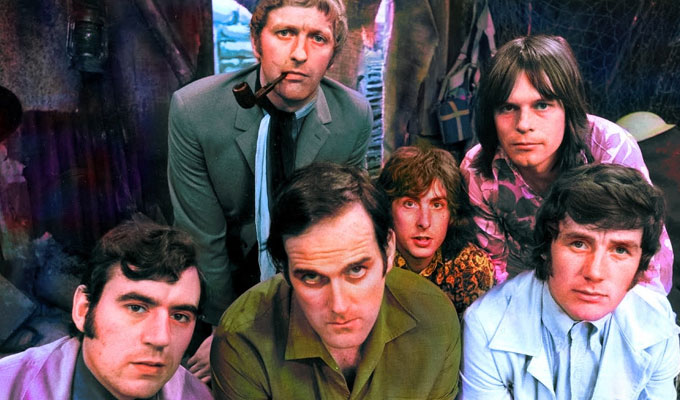 Previously unheard Monty Python footage to air
Radio 4 is to air five new Monty Python specials featuring previously unreleased material from the team's sound archives.
The programmes, presented and executive produced by Michael Palin, are part of a raft of celebrations to mark 50 years of the groundbreaking comedy troupe this summer.
They also include commemorative programmes on BBC Two, a season at the BFI in London and a re-release of books, albums and DVDs.
And on October 5 – 50 years to the day after the first episode of Flying Circus aired on BBC One – fans will assemble in London to set a world record or the 'Largest Gathering of People Dressed as Gumbys'. (Sign up here).There is no existing record.
In a statement about the anniversary, the team said: 'Python has survived because we live in an increasingly Pythonesque world. Extreme silliness seems more relevant now than it ever was.
During the radio series, Palin will cover what John Cleese's mother thought about her care home, the extra unpleasant things that were planned for Eric Idle's Brave Sir Robin in Holy Grail and why the infamous Fat Ignorant Bastards have never been more relevant.
The programmes will also be broadcast by SiriusXM in America after their debut on Radio 4 in September.
Celebrations kick off with a month-long season celebrating Monty Python and its members at the BFI Southbank.
It will feature all the Monty Python feature films; oddities and curios from the BFI National Archive; back-to-back screenings of the entire series of Monty Python's Flying Circus; and showings of post-Python TV and films including Fawlty Towers, Ripping Yarns, Jabberwocky, A Fish Called Wanda, Time Bandits and Wind in the Willows.
There will also be rare screenings of pre-Python shows At Last The 1948 Show, created by Graham Chapman, John Cleese, Tim Brook-Taylor and Marty Feldman; and Do Not Adjust Your Set, with Eric Idle, Terry Jones, Michael Palin, David Jason, Denise Coffey and the Bonzo Dog Doo-Dah Band
Python-related material from the archives will also go on display at the venue.
BBC Two will celebrate Monty Python with a delve into the broadcast archives, too, although the Corporation has not yet revealed any details of what it is planning,.
The album Monty Python Sings (Again) will be released for the first time on double vinyl, with a new track – Stephen Hawking singing the Galaxy Song – and new packaging artwork overseen by Terry Gilliam.
Network Distributing will release all 45 episodes of Flying Circus, on Blu-ray and DVD, fully restored for the first time ever.
All four series, along with unseen and cut footage, sketches and much more, will be presented in an exclusive 50th anniversary limited-edition box set available here from July 29, with all four individual series released separately at a later date
Every original Monty Python book published by Methuen since 1971, including Big Red Book and Brand New Papperbok, will also be re-issued from October 4.
Another book, Monty Python's Flying Circus: 50 Years Of Hidden Treasures, which replicates s documents from The Monty Python Archive will be available from Carlton Books from September 6 in hardback.
Earlier in the year, Monty Python Speaks! The Complete Oral History was republished with new foreword by Last Week Tonight's John Oliver. Order
Official merchandise will also be released during the year, including a beer from Black Sheep Brewery – A Very Silly IPA – which will be available in September and October.
Stateside, BBC America will celebrate the anniversary with a marathon of Monty Python's Flying Circus episodes, Monty Python's Life of Brian and Monty Python and the Holy Grail.
Meanwhile, the entire back catalogue of Monty Python TV shows, films and documentaries is already available on Netflix.
Published: 26 Jun 2019
Recent News
What do you think?