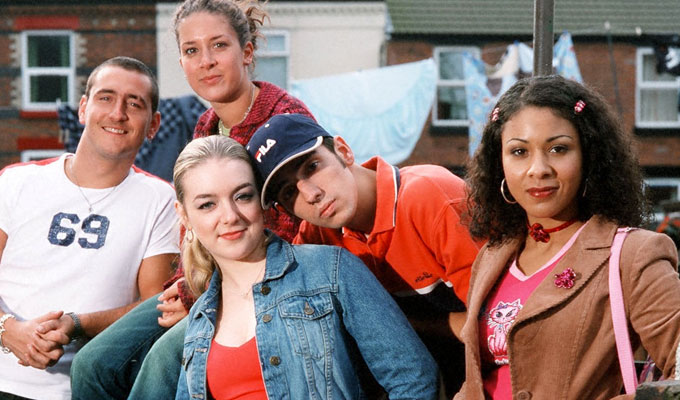 Two Pints Of Lager set for a comeback
It was almost universally panned by critics in the decade it was on air – yet consistently found an audience.
And now BBC Three sitcom Two Pints of Lager and a Packet of Crisps could well be returning for a one-off special.
Will Mellor, who starred in the series, revealed on Instagram that he is working with the creator, Susan Nickson, on a new special.
Aimed at twentysomethings, the series's comedy revolved around sex, booze and bodily functions - but helped make a stars of Ralf Little and Sheridan Smith.
But the premise may need updating from its hedonistic past. Nickson was just 18 when she created the show and Mellor, who was 25 when the series started, is now a 43-year-old father of two.
In his online post, Mellor said that a new run of repeats had sparked requests for a comeback.
He said: 'Recently, since Two Pints came back – it is on at 11 o'clock every night on Gold, they are showing every episode – people have been messaging me about how much they miss the show and how much it was part of their growing up, saying "Please bring it back for a special or do something'."
'Well, I have been listening and reading your messages and I think we are going to get a Two Pints special off the ground.
'I spoke to Susan Nickson and we are hopefully going to try and get a Two Pints special going. Just to say thank you for all the support of people who love the show and got behind it.
'Watch this space, just got to dot the 'i's and cross the 't's and hopefully a Two Pints special will be on the way.'
Little has previously said he would be up for making a Two Pints reunion.
In a review of Two Pints last series in 2011, Metro said it was 'a less welcome return than last night's curry', Den Of Geek called it 'the worst show to hit TV screens in ten years', Vulture said it was 'execrable' and Digital Spy said it was 'a crime against comedy'
In 2015, Mellor floated the idea of a Two Pints stage show, but nothing came of it.
The news comes after a Gavin and Stacey Christmas special was announced or this Christmas. However Smith, who was also a regular in that sitcom, will not be part of it.
Published: 13 Jun 2019
What do you think?