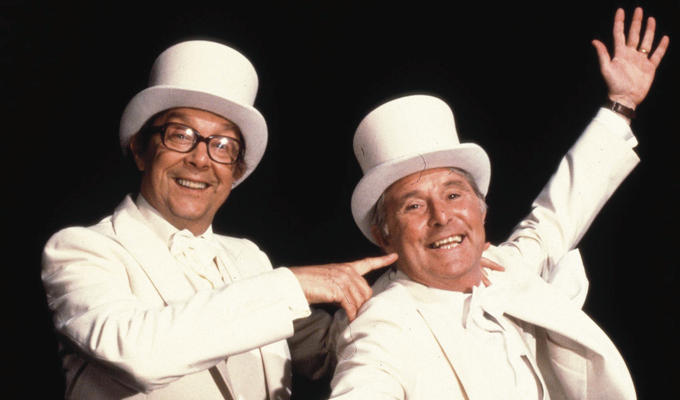 Lenny Henry to host Morecambe and Wise clip show
Sir Lenny Henry is to host a new show repackaging old Morecambe and Wise clips.
Trust Morecambe And Wise will use the archive footage to show how Eric and Ernie can supposedly 'solve all our problems about relationships or money, teach us how to be cultured and sophisticated and show us how to embrace adventure all over the world'.
Sir Lenny once worked with the duo in the 1970s, warming up for their live show in Bournemouth.
In a 2012 interview with Lancashire newspaper The Visitor, he recalled: 'I went on in the first half and was supposed to be on for 12 minutes.
'Morecambe and Wise's audience were brilliant and were keeled over laughing, so I ended up doing 17 minutes. But afterwards, I got a telling off from the stage manager for running over time.
'Eric saw this from the side door and afterwards, he pulled me to one side and told me not to worry, and said he thought I was brilliant. He told me to do exactly the same amount of time the next night. So I did about 18 minutes the second time!
'Eric also told to me use his dressing room, said there was beer and everything. He was really good to me.'
Comic Relief co-founder Sir Lenny has also credited Eric and Ernie with sowing the seeds for the star-stuffed Red Nose Day telethons. 'Think of the glory of all those newsreaders singing There Is Nothing like a Dame. Angela Rippon and the rest of them. Eric and Ernie. They were the ones who said, "You know the people who you thought did that thing? Well, they do this too."'
Eric and Ernie continue to be stapes of the schedules, especially at Christmas,Last year, Jonathan Ross fronted Morecambe and Wise In America for Gold while the BBC offered an hour-long selection of their sketches
Four Trust Morecambe And Wise programmes are to be recorded in front of a studio audience in London in July. Click here to apply for free tickets.
Published: 29 May 2019
What do you think?