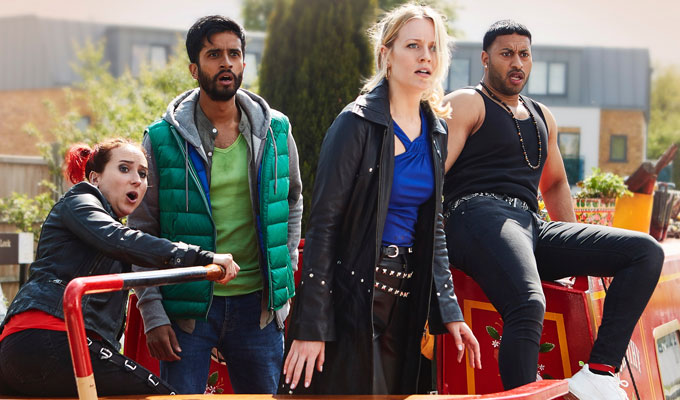 New ITV comedy to combine zombies and canal boats
ITV2 has ordered a new comedy combining zombies with narrowboats.
In Zomboat! four youngster flee the hordes of the undead that are unleashed in Birmingham – on a slow-moving boat called Dorothy on Grand Union Canal.
The six 'gorily funny' half-hour episodes will launch on ITV2 this autumn, and on the on-demand service Hulu in the States later this year.
On the run from the zombies are Jo (Cara Theobold) who has just returned from a season as a club rep, her younger sister Kat (Leah Brotherhead), a computer game addict who buys into every conspiracy theory around, gym bunny Amar (Ryan McKen), and his friend Sunny (Hamza Jeetooa), a wannabe misanthrope.
The broadacster says: 'As they journey along the canal in their tightly packed living quarters, friendships develop, alliances form, arguments occur and romance blossoms. Along the way, they realise there is no escaping the problems of everyday life, even in a zombie apocalypse.
Paul Mortimer, who commissioned the series from Noho Film & Television said: 'ITV2 is committed to comedy for younger audiences and we're delighted to partner with Hulu and Noho Productions to add this fantastically high-concept, home-grown comedy adventure series to our slate.'
Zomboat was created by Adam Miller, who director C4's royal spoof The Windsors and Will Hartley from the Clever Peter sketch troupe.
Production credits
Made by: Noho Film & Television
Created by Adam Miller and Will Hartley
Written by: Adam Miller, Will Hartley and Liz Doran
Executive Producers: Camilla Campbell and Robert Wulff-Cochrane
Producer: Matthew Mulot
Director: Adam Miller
Commissioned by: Paul Mortimer, ITV2's head of digital channels and acquisitions, and Sasha Breslau, head of acquired series.
Published: 23 May 2019
What do you think?