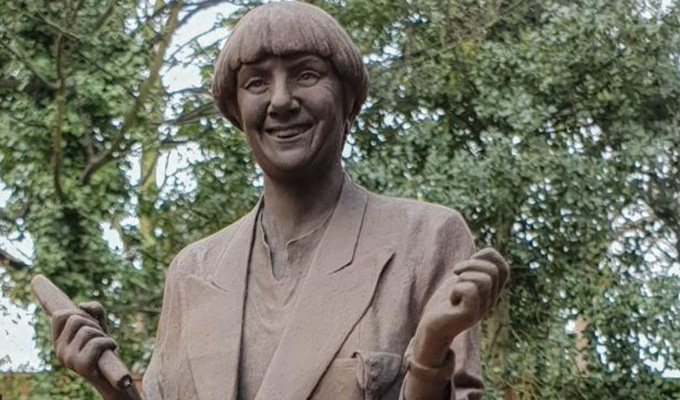 Victoria Wood statue to be unveiled tomorrow
The life-size bronze statue of Victoria Wood is to be unveiled in Bury town centre tomorrow afternoon.
Family, friends and colleagues of the late comedian will gather in the town's Library Gardens at 2pm to remove the covers from the statue, crafted by artist Graham Ibbeson.
Although he has previously sculpted the likes of Eric Morecambe, Laurel and Hardy and Les Dawson, many fans have criticised the Victoria Wood design, suggesting it does not look much like her
Instead, it's been suggested the bronze resembles former Doctor Who Patrick Troughton, Gwendoline from Wallace and Gromit, artist Grayson Perry, the Red Dwarf character Dwayne Dibley, US comic Emo Philips, footballer Peter Beardsley or Mo Howard from The Three Stooges.
The statue - a joint project between Bury Council and Victoria's estate - was funded in part by a crowdfunding appeal set up by Wood's brother Chris Foote Wood.
At tomorrow's unveiling, The Brighouse and Rastrick Brass Band will play a selection of the comedian's music, including The Ballad of Barry and Freda and theme tunes from her shows.
And on Saturday a sold-out show at The Met in the town will celebrate her life and career with her former co-stars including Thelma Barlow and Duncan Preston.
The leader of Bury Council, Rishi Shori, said: 'Victoria Wood touched the hearts of millions with her talent for comedy. That she came from Bury is an enormous sense of pride for local people, and we couldn't be happier that Library Gardens, in the heart of our town, has been chosen as a place for this wonderful, permanent memorial to her.
'We are hoping that along with the people closest to Victoria Wood, including her family, close friends and colleagues, her fans from Bury and beyond will come down and join us as we pay tribute to one of our own.
'The statue will not only serve as a reminder of Victoria's many achievements but I hope will also act as an inspiration to others to use their own talents.'
Ibbeson has said the statue is modelled on how she appeared in An Audience With Victoria Wood which aired in 1988, adding: 'I've tried to show her enjoying the applause, and the laughter.'
But here is what critics think.
Published: 16 May 2019
What do you think?