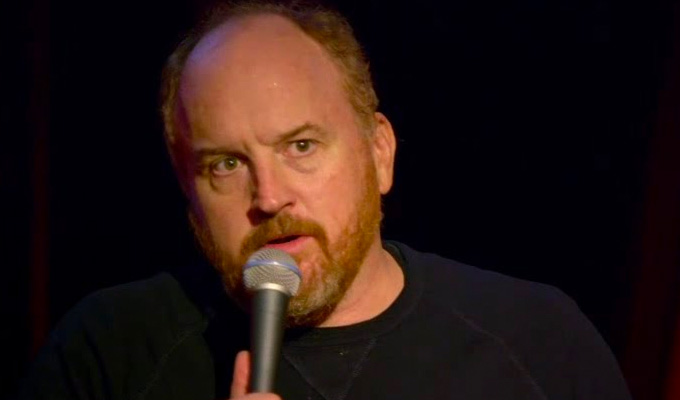 Louis CK's UK gigs dropped after protests
Louis CK has cancelled his two UK shows less than 24 hours after they were announced.
The disgraced stand-up, whose career collapsed over revelations that he masturbated in front of female comedians, was scheduled to play gigs at the two House Of Fun comedy clubs in Leeds next week.
However, yesterday's news received an icy reception on social media – and promoter Toby Jones told Chortle: 'The sheer amount of hatred from both the industry and members of the public made running the shows utterly untenable.'
Among those expressing their anger were comedian Susan Murray, who tweeted: 'YAY don't you just live it when male promoters bring over rapey comedians just to make a quick buck. SOLIDARITY WITH THE SISTERS!!!!!'
Fellow comic Chloe Green added: 'I hope a rich woman somewhere buys all the tickets for this show so CK can spend a few hours talking to himself and his limp dick. Failing that, I hope someone brings a milkshake. To the venue/promoter: Way to show women (and women comics) what you think of them, asswipe.'
Comedy producer Rachel Barber tweeted: 'Disgusted that @ComedyLeeds is having Louis CK for two nights of performances. Surely the term 'disgraced' suggests that this is a terrible decision shows such contempt for women.'
And journalist John Murphy said: 'Weird how just 3 years ago I'd have been beside myself with excitement at seeing Louis CK in a tiny venue in Leeds. Now it just fills me with revulsion. Keep your old lad to yourself eh Louis?'
Now an email has gone out to all those who brought tickets saying: 'We regret to inform you that Louis CK: LIVE AT LEEDS is cancelled and will not be rescheduled.'
Cash for the tickets has been refunded, and all mention of the shows removed from House Of Fun's website and social media.
CK returned to the stage in August last year after taking nearly a year off after admitting several instances of sexual misconduct.
Since then his sporadic stand-up performances have often met with protest – while leaks of work-in-progress routines about the survivors of school shootings and trans people have caused more outrage.
He has since threatened audiences with legal action if they repeat any of his material without his 'express prior written consent' – though quite how enforceable his demands are has yet to be tested in court.
Club promoter Toby Jones previously said his team had 'spent the weekend deliberating whether to do [the gigs] or not' before finally agreeing to the request to host him.
Published: 15 May 2019
What do you think?