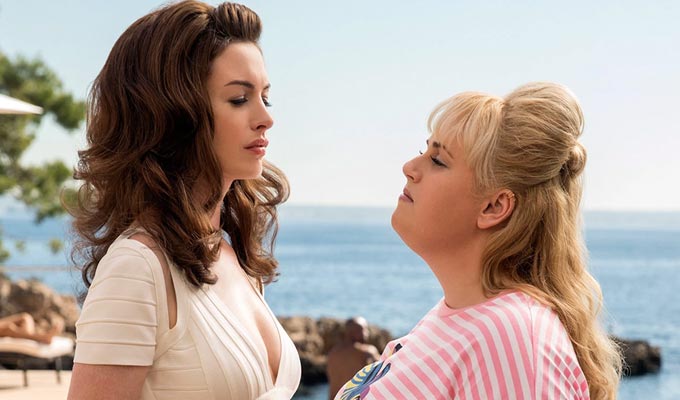 Critics maul Chris Addison's first movie
Chris Addison's debut movie has opened to a slew of negative reviews.
The Hustle – in which the comedian directs Rebel Wilson and Anne Hathaway playing a couple of con artists – has been slated as 'useless', 'smutty' and 'a mushroom cloud of anti-humour.
The film is female-led remake of 1988's Dirty Rotten Scoundrels starring Michael Caine and Steve Martin, which was itself a remake of 1964's Bedtime Story with David Niven and Marlon Brando.
Awarding just one star in Rolling Stone, Peter Travers wrote: 'everyone's inner comedic clock is calamitously off. The setups are flat, the jokes don't land and the actors don't — or won't — connect.'
In the Independent's one-star review, Geoffrey McNab called it a 'dirty rotten mess of a film' and bemoaned its lack of wit saying: 'Smutty jokes about STDs, lesbian cops, drunken Essex girls and chastity belts don't help.'
The Guardian also gave just one star, with Peter Bradshaw unleashing a torrent of opprobrium at Hathaway, saying that she 'detonates a megaton blast of pure unfunniness in this terrifying film. She leaves behind a mushroom cloud of anti-humour, reducing every laugh possibility to grey-white ash in a postapocalyptic landscape of horror and despair'.
The Daily Telegraph, too, gave just one star with critic Robbie Collin saying: 'To say that I didn't laugh once during The Hustle would be factually accurate, yet it doesn't quite capture the strength and intensity of the not-laughing I was doing throughout.'
In another one-star review in the Daily Mail, Brian Viner writes: 'The Hustle… has none of the wit and sophistication of, let's say, Carry On Matron' adding that it was a 'surprise' that it had been directed by Chris Addison.
The comedian previously directed episodes of Veep and The Thick Of It, in which he also starred.
However not every critic was quite so damning. The Los Angeles Times praised the stars, especially Wilson's 'wordy chaotic energy' and Hathatway's' 'performance that is all kinds of campy'.
And the New York Times enjoyed the 'goofy accents, nicely staged pratfalls, humiliations large and small' but accepted there was 'not much that rises to the level of unforgettable, wild-eyed, laugh-out-loud hilarity', merely fulfilling its 'own modest, escapist ambitions'.
Published: 10 May 2019
What do you think?