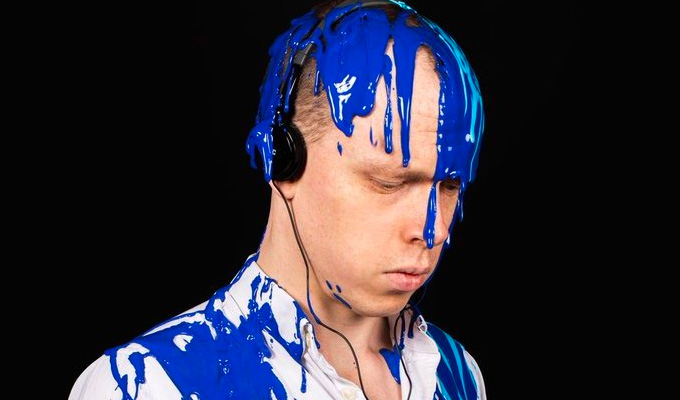 Comic Jordan Brookes develops an 'awkward and invasive' phone app
Comedian Jordan Brookes has been given a £14,000 grant to develop an 'immersive' smartphone app.
In Present, the inventive stand-up will take the role of an 'impish life guru' helping singles or couples going through tough times by 'getting deep inside your head' and even 'appearing in your bedroom to satisfy your needs'.
While the interactive experience will initially be confined solely to smartphones, backed with a specially created soundscape, developers say it will 'gradually bleed into other parts of your life,' with Brookes emailing and even phoning and sending post to the user.
The pitch for the app says it promises to be 'awkward, difficult, and more than a little invasive'.
Present is being co-created by Ciaran Clarke, the sound designer for Brookes' last Edinburgh show Bleed – which used silent disco-style headphones – and his producer Bríd Kirby, of Fight In The Dog.
The app is the first comedy project to receive funding from CreativeXR, an initiative run by Arts Council England and 'innovation centre' Digital Catapult to encourage riskier use of immersive technology.
In a statement, the team behind Present said: 'We are so thrilled to have been awarded this fund as it allows us to develop something which has never been attempted before.
'Our aim is to create a prototype of an app which can be used anywhere to create a comedy experience which is as live and engaging as sitting in an audience.
'We have always been interested in being able to push the boundaries of comedy into other forms and so this feels like a very exciting next step into exploring how technology and comedy can be moulded together.'
A total of 20 trailblazing projects have won funded in the second year of Creative XR.
Francis Runacres of Arts Council England said: 'These projects demonstrate the potential of immersive content to produce new forms of creativity and cultural experience when artistic vision is combined with technology.'
Published: 26 Apr 2019
What do you think?