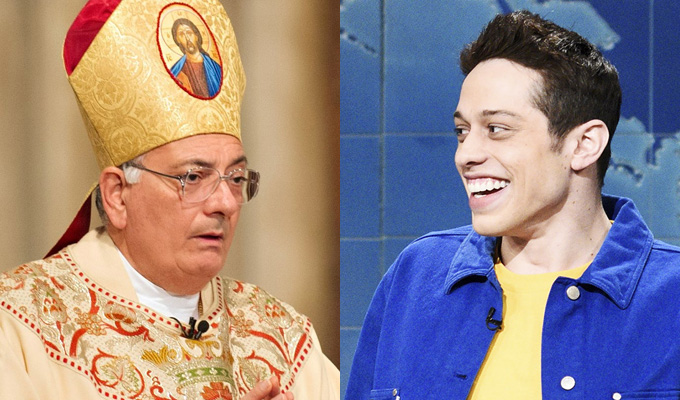 Bishop demands apology over Catholic sex abuse gag
A Catholic bishop has demanded an apology over a Saturday Night Live joke that made reference to sexual abuse in the Church.
Bishop Nicholas DiMarzio from the diocese of Brooklyn was angered by a gag on this weekend's show, when Pete Davidson drew parallels with the sickening abuse allegations against R Kelly.
The comic said: 'If you support the Catholic Church isn't that the same thing as being an R Kelly fan? I don't see the difference – only one's music is considerably better.'
Bishop DiMarzio demanded 'an immediate public apology' from the programme.
Playing the victim card, he wrote: 'Apparently, the only acceptable bias these days is against the Catholic Church. The faithful of our Church are disgusted by the harassment by those in news and entertainment, and this sketch offends millions.'
Clearly preferring comedians to keep quiet about the issue, as so many victims did, he said: 'The mockery of this difficult time in the Church's history serves no purpose.
'The insensitivity of the writers, producers, and the cast of SNL around this painful subject is alarming.'
Bishop DiMarzio also claimed: 'It is likely that no other institution has done more than the Catholic Church to combat and prevent sexual abuse.'
More than 3,000 priests have been investigated by the Vatican over claims of sexual abuse, and just last month Bishop DiMarzio named more than 100 priests from his diocese who have been credibly accused of sexually abusing children
He said he hoped the publication of the list would 'add another layer of healing for [the victims] on their journey toward wholeness'.
In the Weekend Update segment Davidson also discussed separating art from the artists accused of abhorrent behaviour. He said: 'The reason everyone is so upset is because R. Kelly and Micheal Jackson make great music. If I found out Macklemore did some weird stuff, I'd be happy to free up the space on my iPhone.'
Published: 13 Mar 2019
What do you think?