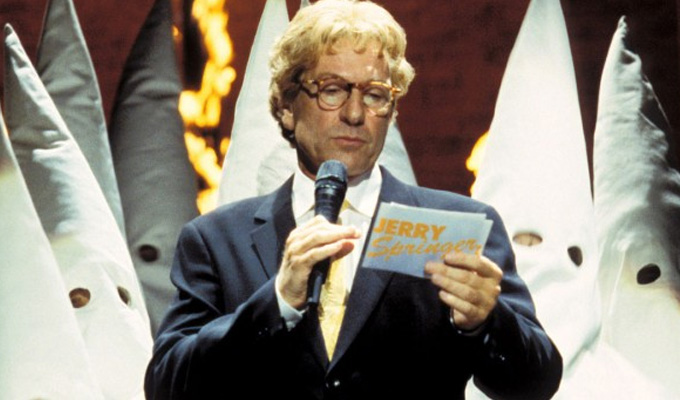 Jerry Springer: The Opera returns to the British stage
Jerry Springer: The Opera is being revived – 13 years since it last played in the UK.
A new theatre company called Northern Ricochet is to stage a four-week production of the controversial satirical musical at Manchester's Hope Mill Theatre this August.
It is thought to be the first time the show – written by Richard Thomas and Stewart Lee – has been performed in Britain since a 2006 tour was battered by protests organised by the hardline Christian Voice group.
James Baker, who is directing the production, said he would be presenting a 'fresh version of Jerry'.
He said: ''When Jerry Springer - The Opera first hit stages in the UK, it created a mass protest. It was unapologetic, uncompromising, fresh and original – and fused a highbrow form with a lowbrow subject matter.
'This fusion was what first attracted me. After getting through the protesters, I sat down and watched the best two hours of entertaining yet profound theatre I'd seen in years. It started a revolution.
'Jerry Springer today means something very different to a modern audience. Where we've ended up is far more frightening.
'We are bringing you a fresh version of Jerry. One that is again a provocation but also a reflection of our times.'
The opera was first performed at the 2002 Edinburgh Fringe after being developed at London's Battersea Arts Centre. It went on to play the National Theatre and the Cambridge Theatre in the West End – but a BBC Two broadcast of the stage show in 2005 galvanised protesters, attracting 55,000 complaints and even death threats against Corporation executives.
Lee has said that the campaign against the show stopped him from making any money from the years it took to develop.
In a 2009 interview with The Observer he said: 'If you have been on the verge of becoming a millionaire and that has not happened because of far-right pressure groups, and your work has been banned and taken apart, and you've been threatened with prosecution, and the police have advised people involved with your production to go into hiding, and bed and breakfasts won't have the cast to stay because they're blasphemers, and you have to cross a BNP picket line to go to work in Plymouth, you do start to think, well, what can be worse than that?'
Last year, the comedian said he relinquished his share of the rights to his former agents, Avalon, which originally produced the show, when he split from them more than a decade ago because he was unhappy they were becoming too corporate.
He suggested that rescinding the rights meant the company could no longer have any financial or contractual hold over him.
The opera has been staged overseas since the original brouhaha, including an award-winning run in New York's Pershing Square Signature Center last year – 14 years after a planned Broadway run was cancelled. Harvey Keitel also played the title character for a two-night run at New York's Carnegie Hall in 2008.
A version ran in Dublin's 2,000-seat Grand Canal Theatre for a week in 2011, and it has also been staged at the Sydney Opera House and in Toronto, both in 2009.
The new version of Jerry Springer: The Opera runs at Hope Mill Theatre from August 8 to August 31. Tickets.
Published: 21 Jan 2019
Recent News
What do you think?