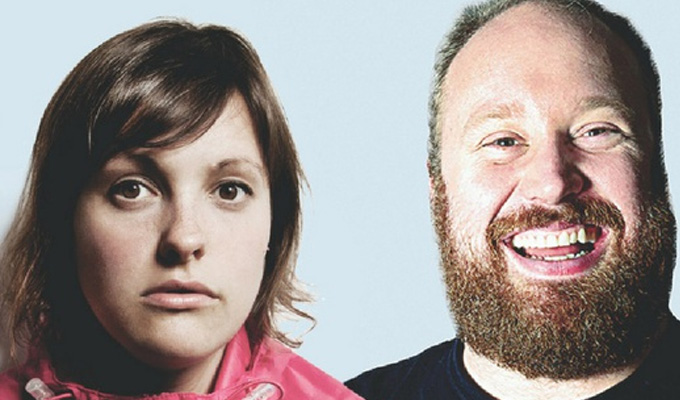 Putting the jest in gestation
The week's comedy on demand.
Josie and Jonny are Having a Baby (With You)
Last year, Josie Long and Jonny Donahoe of Johnny And The Baptists became parents after a pregnancy they described as 'little unexpected'.
Like any first-time mums and dads they were clueless about what that involves, so for this new podcast – recorded before the birth of their daughter – they turned to some of their celebrity pals with children to try to get the low-down on wha parenting involves.
The first to try to sate their curiosity is American actor, writer and comedian John Hodgman. Listen here
Better Things
This US comedy made the headlines a little over a year ago for all the wrong reasons, as it was co-created by Louis CK, whose Pig Newton production company made it.
Don't let that put you off, though (and he is no longer involved after broadcaster FX distanced themselves from the comic). Co-creator Pamela Adlon has received two Emmy nominations for her lead role as a divorced actress who raises her three daughters alone.
The show also received a Peabody Award in 2017, with judges stating: 'This searingly funny and beautiful show is an at-times raw examination of the vicissitudes of working motherhood, crackling with feminist verve and energy, that consistently cuts new ground.'
Series three launches in the States next month, but the first ten-episode season has been acquired by the BBC for the iPlayer
Grace And Frankie
Jane Fonda and Lily Tomlin return to Netflix as the two older women thrown together my mischance, forging a friendship based on their mutual feeling that the just don't give a damn anymore. Season six has just been commissioned, and the new series five episodes are available here.
Henry Rollins
The storyteller, rocker and comedian, tells of >his weirdest shows, why women should rule and some celebrity stories involving RuPaul,  David Bowie, Ozzy Osbourne and more in this kinda-stand-up special recorded at Portland, Oregon. It was originally released on America's Showtime channel last year, and now you can watch it on Amazon Prime, if you have that. Watch herehis weirdest shows, why women should rule and more in a live performance from Portland, Oregon.Here is a very brief teaser:
The Young And The Weary
A new podcast hosted by Jeremy Pinsly, a 32-year old stand-up and Dev Rogers, an 88-year old comedic actress from Buffalo, who discuss their very different careers in comedy, drawing very much on the age and culture gap between them.
In the first episode, Dev talks about how she took a comedy class after a breast cancer diagnosis, arguing: 'What else is there to do when you're my age, except be funny?'. While Jeremy reveals he quit a good job as an executive at a sports marketing company to pursue stand-up comedy in New York.
Listen here.
Published: 19 Jan 2019
What do you think?