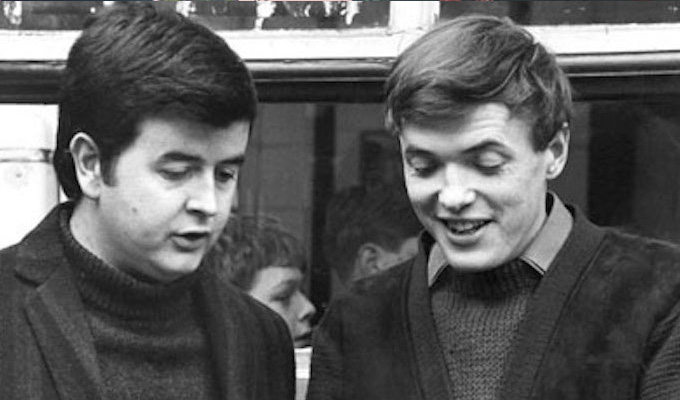 Unearthed: Lost episodes of the Likely Lads
Lost episodes of The Likely Lads have been unearthed more than 50 years after they aired on TV.
Now they are to be included as DVD extras as a film version of the classic sitcom is released on disc.
Both episodes, A Star Is Born and Far Away Places, aired in 1965 and were repeated two years later but were believed lost.
However telerecordings – obtained by pointing a 16mm film camera at a TV screen – recently resurfaced in a private collection.
The sitcom, starring James Bolam and Rodney Bewes and written by Dick Clement and Ian La Frenais, was hit hard by the BBC's former policy of wiping tapes. Even with the new discoveries, 11 of the original 21 episodes remain lost.
In A Star Is Born, the two lead characters – Bob Ferris and Terry Collier – enter a talent contest; while in Far Away Places they disagree over where to holiday: Bob wants to go abroad, but Terry has his sets set on a week in Bognor.
They will be included in the DVD release of the 1976 spin-off Likely Lads movie on March 18.
Meanwhile, a recently rediscovered episode of Till Death Us Do Part will be included in a DVD release of that sitcom's movie on January 28.
Sex Before Marriage was unearthed in 2017, and was screened at the annual Missing Believed Wiped event at the BFI on London's Southbank that year.
It was first broadcast on January 2, 1967, and involves the bigoted Alf Garnett – as played by Warren Mitchell – having a typically lively debate with the rest of his family about free love after watching a TV documentary on the subject.
John Junkin guest starred as a milkman alongside regular cast members Dandy Nichols, Anthony Booth and Una Stubbs.
Both films are being released by Network Distributing, which was instrumental in tracking down and restoring the sitcom episodes.
Published: 19 Jan 2019
Recent News
What do you think?