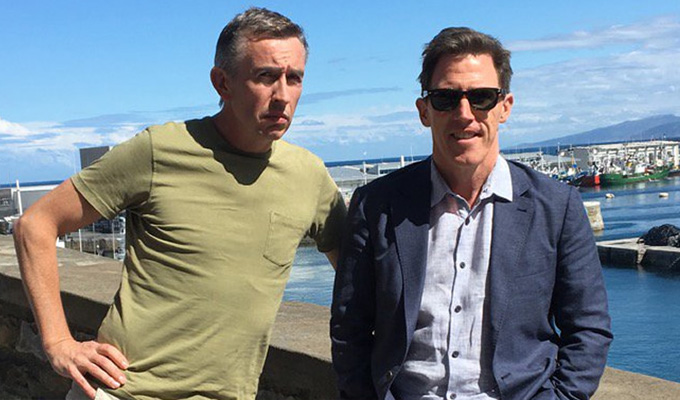 Steve Coogan and Rob Brydon to go on another Trip
Steve Coogan and Rob Brydon are reuniting for a fourth series of The Trip – this time travelling around Greece.
'We're doing another Trip next year, which is The Trip to Greece' Coogan told the podcast Off Camera with Sam Jones.
The series reunites Coogan with his regular collaborator, the director Michael Winterbottom. The pair have just made the upcoming film Greed, about a retail billionaire, said to be based on Top Shop tycoon Philip Green, also shot in Greece.
Chortle understands that Sky have greenlit the new series – even though last year Winterbottom said he had no plans to return to the format.
But he told US blog The Stranger: 'If we did, my theory right now would be either Scandinavia or Greece, depending on my mood at the time. I do like the idea of heading up into the Arctic Circle and leaving Steve and Rob in some frozen wasteland somewhere.'
Reflecting on The Trip's blurring of reality and fantasy, Coogan told Jones: 'Weirdly, and counter-intuitively, because you're saying this is a [fictional] version of ourselves, you're more likely to throw stuff in that's super-real and truthful because you've got this free pass to say it in a way.'
He admitted that occasionally confuses viewers.
'Rob has an affair in the second series, he's supposed to be the faithful guy, I'm supposed to be the philanderer. And his real-life wife was dropping the kids off at school and people were coming up to her saying "you must be going through a pretty tough time at the moment with your husband having an affair". And she's like "what are you talking about?"
'Funnily enough, there's one hotel I stay at in the first series of The Trip where I meet with the woman at the front desk and I wind up in bed with her. But the staff who serve us the food in the hotel that we shoot in, they're the real staff. The woman I end up sleeping with in bed is not the real front of house staff, she's an actor.
'I've been back to the hotel, and the guy who runs it said plenty of people show up and say "is Magda here?", the woman I slept with, hoping she'll be behind the desk. I don't know whether they think she sleeps with everyone who comes to the hotel.'
Coogan was speaking to promote the film Stan & Ollie, in which he plays Stan Laurel alongside John C Reilly as Oliver Hardy, released in cinemas next month.
He also returns as Partridge in the magazine show pastiche This Time With Alan Partridge, airing on BBC One later in 2019.
Coogan told Jones that he previously felt Alan Partridge had become an 'albatross' until Winterbottom cast him in 24 Hour Party People, saying the director 'saved my life, he saved me when I was in this desert where I felt creatively, just directionless.'
The Trip began on BBC Two in 2010 when Coogan and Brydon visited the Lake District. The series was also edited into a feature film. A follow-up in 2014 took the duo around Italy, before last year's instalment, The Trip to Spain, aired on Sky Atlantic.
- by Jay Richardson
Published: 21 Dec 2018
What do you think?