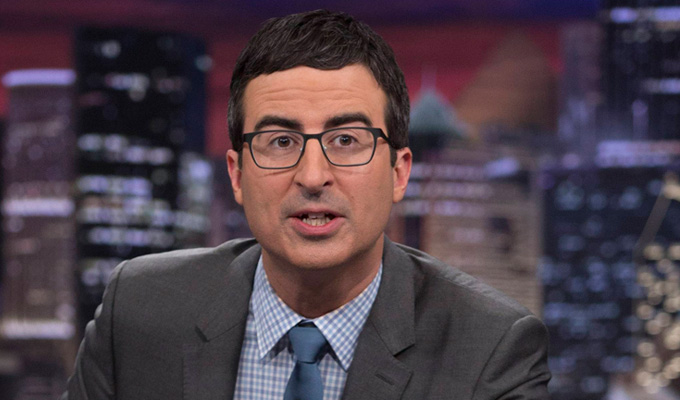 Why John Oliver's savaging of Brexit was banned in the UK
Footage of John Oliver savaging Theresa May over her Brexit deal has been banned in the UK.
The segment was dropped from the Sky Atlantic broadcast of his US programme Last Week Tonight because it fell foul of laws prohibiting Commons footage from being used in a satirical programme.
In the States, viewers saw Oliver playing footage of MPs laughing openly at her suggestion Britain would be making a smooth withdrawal from the EU. After the clip, he exclaims: 'Holy shit! They've just laughed in her face at the concept of this going well!'
But footage from inside the Commons chamber cannot be used 'in any light entertainment programme or in a programme of political satire' under a rule, agreed by broadcasters in 1989 as part of a deal to admit television cameras into Parliament.
So Oliver had to record different footage to replace his Brexit section for UK broadcast – and not for the first time.
Speaking to camera he explained: ''In that piece there's… some Parliamentary footage. And as we've discussed before on this show, it's against the law for a comedy programme to do that in the UK which is – and this is true – fucking stupid.
'Obviously that puts us in a little bit of a pickle, as this show now has a six-minute gap we need to fill.
'You may remember last time we ran into this exact same problem we replaced the segment with Gilbert Gotfried reading three-star Yelp reviews from restaurants in Boise, Idaho. Don't worry, I'm not going to do that to you again.
Instead Oliver got Gotfried to read extracts from the 585-page Provisional Withdrawl agreement for Britain's withdraw from the EU.
Of course, social media users were quick to circumvent the outdated ban, and the prohibited footage has been circulating wildly online.
This is the John Oliver footage they didn't air in the UK for reasons so stupid I'm going to have to just let him explain in the tweet below. pic.twitter.com/PivKh5CinB

— Femi (@Femi_Sorry) December 17, 2018
Two years ago, Charlie Brooker highlighted the issue of Parliamentary footage when he was banned from using clips in Screenwipe. He pointed out the inconsistency that 'Have I Got News For You can't use clips from the House of Commons, whereas This Week can - with funny music dubbed on top.'
At the time, Chris Grayling, who was then Leader of the Commons shot down a proposal to relax the rules.
Published: 19 Dec 2018
What do you think?