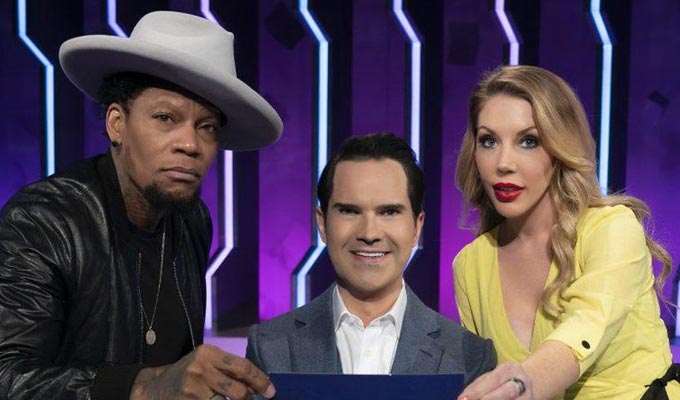 Jimmy'll Fix It
This week's comedy on demand.
The Young Offenders
The Christmas special of this boisterous comedy with a heart landed on iPlayer yesterday. It's Christmas week and the residents of Conor and Jock's Cork estate have been fighting eviction for over a month. Meanwhile, the lads are setting off on a chaotic adventure to give Mairead the white Christmas she has always dreamed of… Watch here
The Fix
Netflix gets into the panel show game – a format as rare on US television as it is ubiquitous here. Jimmy Carr hosts and D.L. Hughley and Katherine Ryan are the team captains tackling the world's woes with help from a rotating crew of funny guests (Michael Ian Black and Nikki Glaser in episode 1), an expert and some clips. Watch here
Der Pfuffet Shoe Krispbread Spectrum
Before The Muppet Show Christmas Special, there was Der Pfuffet Shoe Krispbread Spectrum. Honest. Here's a delightfully bonkers 11 minutes of puppet-based surrealism, courtesy of comedy filmmaker Greig Johnson, who makes an appearance as Lung Dolphin:
The Data Doctor
Mark Silcox brings his deadpan oddness to bear on this new Channel 4 short, in which he harnesses the power of big data to solve real-life problems. The task is to help social media personality Bash the Entertainer find the perfect gift for his friend.
Older and Wider
Jenny Eclair has joined forces with her Grumpy Old Women co-writer and producer Judith Holder to launch this new weekly podcast of gossip and news 'from the menopausal front and beyond'. The first two episodes were released yesterday with journalist Eve Pollard and author Marianne Power as the guest.
Holder says: 'Think two game old birds nattering over the virtual garden fence about being so old you think J Lo is a drink, or having issues with 'the undercarriage' which make PMT seem like a Disney ride.'.
Subscribe here.
Shirley & Shirley
The twist with this comedy special – released on streaming platform NextUp yesterday – is that it was recorded while both performers were heavily pregnant. Both Joanna Carolan and Pascale Wilson gave birth less than three months after the recording of this sketch comedy duo, 13 days apart.
The show, titled Marriage Material, explores Wilson becoming a mother as part of a heterosexual couple, compared to Carolan within a same-sex couple.
Watch here.
Buddy Hackett Live & Uncensored
One for the real stand-up nerds. Recorded at Resorts International in Atlantic City, in March 1983, this rare live performance of old-school Buddy Hackett – compete with some sexist and racist material that doesn't stand the test of time too well – has just been released on Amazon Prime
Published: 15 Dec 2018
What do you think?