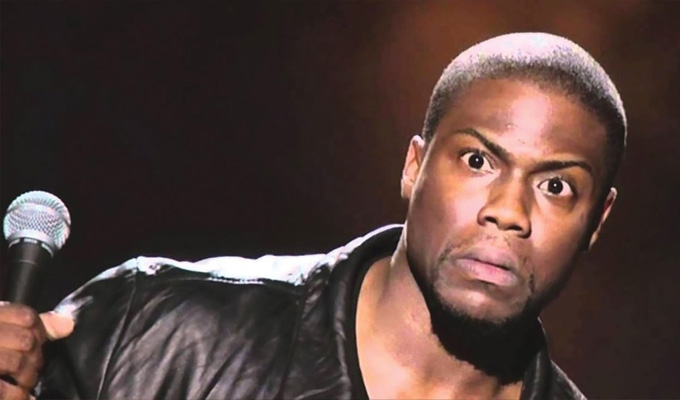 Kevin Hart quits Oscar job over homophobia storm
Kevin Hart has stepped down from hosting the Oscars after his homophobic past caught up with him.
The comedian had said that had been a longstanding dream to front the ceremony – but the announcement put Hart under fresh scrutiny over comments he had made on Twitter and in his stand-up routine.
The academy that hands out the awards told the comic to apologise or stand down, and the comic chose the latter.
Revealing the ultimatum in a video, the comedian said: 'I chose to pass on the apology. The reason why I passed is because I've addressed this several times. This is not the first time this has come up. I've addressed it. I've spoken on it. I've said where the rights and wrongs were. I've said who I am now versus who I was then. I've done it.
'I'm not going to continue to go back and tap into the days of old when I've moved on and I'm in a completely different place in my life.'
Two hours after that he finally did issue an apology, while also confirming he wouldn't be hosting February's event, insisting it had been his decision.
'I have made the choice to step down from hosting this year's Oscar's,' he wrote. 'This is because I do not want to be a distraction on a night that should be celebrated by so many amazing talented artists. I sincerely apologize to the LGBTQ community for my insensitive words from my past.
Hart had originally said that he was 'blown away' at being asked to host the ceremony, telling his 66million Instagram followers: 'This has been a goal on my list for a long time… I know my mom is smiling from ear to ear right now.'
But then his homophobic comments came to light, including a routine from his 2010 stand-up special Seriously Funny.
In it, he said: 'One of my biggest fears is my son growing up and being gay. That's a fear. Keep in mind, I'm not homophobic, I have nothing against gay people, be happy. Do what you want to do. But me, being a heterosexual male, if I can prevent my son from being gay, I will. Now with that being said, I don't know if I handled my son's first gay moment correctly. Every kid has a gay moment but when it happens, you've got to nip it in the bud! You gotta stop it right there: "Stop it! That's gay!"'
He has also said that he turned down a role in the 2008 film Tropic Thunder because the character was gay and 'real flagrant' – although he did a part in 2015's prison comedy Get Hard, which was deemed homophobic, with one critic calling it 'an almost two-hour film based around a fear of anal sex'.
Hart's Twitter feed was also problematic.In 2011 Hart tweeted: 'Yo if my son comes home & try's 2 play with my daughters doll house I'm going 2 break it over his head & say n my voice 'stop that's gay,'"
Other tweets include calling actor Dwayne L. Brown 'some type of FAT F-G' and saying: 'I'm not passing along a pic of a naked man!!! That would make me gay by association.'
I wonder when Kevin Hart is gonna start deleting all his old tweets 🤔🤔🤔 pic.twitter.com/ZbYG6SI3Xm

— Benjamin Lee (@benfraserlee) December 5, 2018
As the storm grew, Hart issued a defiant message on Instagram, saying: 'Stop looking for reasons to be negative. If u want to search my history or my past and anger yourselves with what u find that is fine with me.'
However, some of the controversial tweets had mysteriously vanished from Twitter over the day. But not before the damage had been done.
Published: 7 Dec 2018
What do you think?