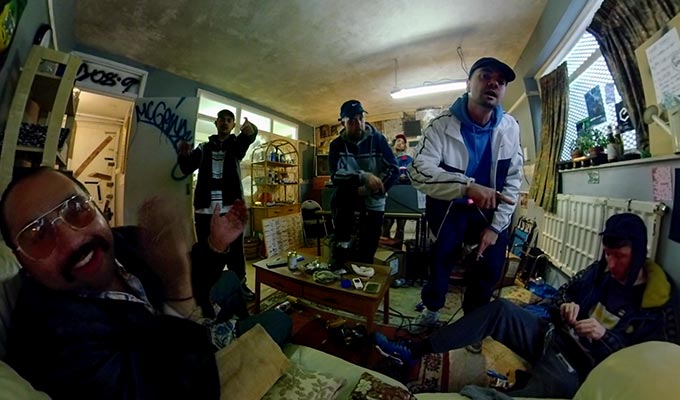 People Just Do Nothing release the BBC's first VR comedy
The cast of People Just Do Nothing have released the BBC's first comedy virtual reality film.
In the four-and-a-half-minute film, the viewer is a record company boss who has been kidnapped by the crew of pirate radio station Kurupt FM, desperate to land a record deal.
MC Grindah and DJ Beats perform one of their tunes, while Chabuddy G puts his arm round you and sits down next to you on the sofa.
The film is available now in the BBC VR app on the Oculus Store, and can be viewed on an Oculus Go or Samsung Gear VR headset. A 360-degree, 3D version is on YouTube here:
MC Grindah said: 'We're already the best thing on the telly and radio, now we're the best in virtual reality as well. 360 degrees of pure Kuruption. You lucky little people.'
Chabuddy G said: 'Make sure you check out this exclusive live performance from the Kuruft FM. Especially if you're from a big music label. We're open to offers. spicybhangralover@askjeeves.com'
Produced by Roughcut TV and BBC VR Hub, this is the first time the BBC has tried doing comedy in virtual reality.
Zillah Watson, head of the BBC VR Hub, said: 'This hilarious short film is a great example of how fun VR can be. So far we've launched BBC VR experiences that have taken us into space, up in a bomber during the Second World War, to Russia for the World Cup, and now finally to a flat in Brentford.
'We're making people laugh – which is quite hard in a VR headset – and showing that VR can work in any genre.'
The fifth and final series of People Just Do Nothing returns to BBC Two at 10pm tonight – although a US remake, and possible a film, are also in the works.
Published: 12 Nov 2018
Recent News
What do you think?