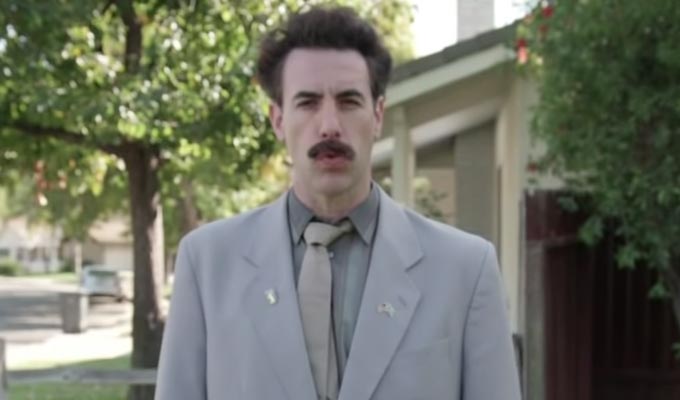 Borat's back!
Sacha Baron Cohen has revived Borat – for the American midterm elections.
The comic creation pounded the streets of a wealthy area of Los Angeles to campaign for Donald Trump's Republican party for last night's Jimmy Kimmel Live! Or 'liberal elitist Hollywood bubble globalist Jew mouthpiece,' as the Kazakh character said.
Introducing the clip, he said: 'Russia interfere with the presidential election….but now, all eyes are on them. So, it's up to Kazakhstan to swing the midterms for Premier Trump. I come to California to do election tampering.' Or 'tamponing' as he put it.
Borat first knocks on a woman's door and is stunned to find it is not against the law for her to vote. He then speaks about the 'fake news' reports that Mexican children are being put in cages, getting her to high-five the fact.
'So many came over here, they had to put them somewhere… They just needed to keep them somewhere safe temporarily,' she said. 'It was like a camp-out.
In a second Trump supporter's house Borat says there isn't a problem being a racist. 'I am a racist, it is nice.'
He then went to a polling station and tried to deter Jewish people from voting, and baffled an army veteran by talking about Mexicans stealing Melania Trump's 'pubis'.
Cohen also posted a picture of Borat with a fake ID on his Instagram, saying: I voted, Great Success.'
Published: 7 Nov 2018
What do you think?