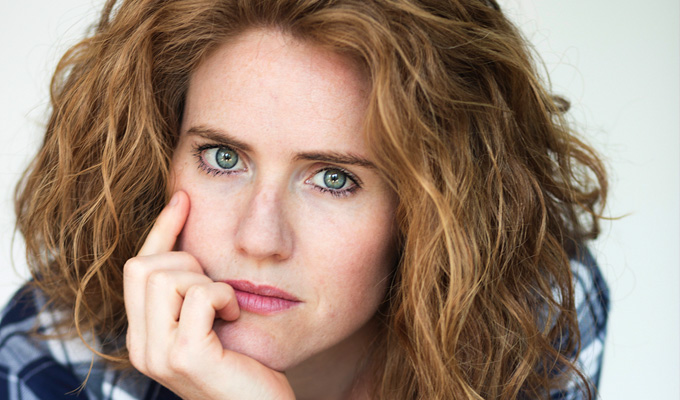 Sarah Kendall shoots a comedy-drama for Sky
Sarah Kendall is to star in new comedy-drama for Sky TV that she also wrote.
In Frayed, she will play a middle-class housewife living in London, who suddenly finds herself back in the Australian town she grew up in and with the flawed family she left behind.
Kendall, 42, is herself based in London, having grown up in the New South Wales town of Newcastle.
The series of six 45-minute episodes will air next year, but like Kendall's acclaimed stand-up storytelling shows it will be set in the recent past, in this case 1989.
Kendall said: 'I just wanted to visit my family in Newcastle but I ended up shooting a six-part comedy here for the ABC and Sky,.
'I'm incredibly excited to be given this opportunity. And I also love free flights.'
Frayed is being made by Merman Television, the UK company set up by Sharon Horgan and producer Clelia Mountford, with Guesswork Television, the Australian production company behind Hannah Gadsby's stand-up special Nanette.
Matt Passmore, who starred in Australian dramas McLeod's Daughters and Underworld, also has a role.
Now based in America, the 44-year-old actor posted an image of himself holding the script on Instagram, with the caption: 'Looking forward to shooting this comedy series. 'Bout time I worked back in 'Straya.
'Actually, the show is a bonus... I actually came back to stock up on the Milo,' he joked in reference to the chocolate and malt drink.
Details of his role have not yet been announced, nor have details of the supporting cast.
Sky's head of comedy, Jon Mountague, said: ''We can all relate in some way to complex family drama, which is at the heart of this ingeniously written comedy.
'Sarah Kendall is an exceptional lead and I'm excited to add Frayed to Sky's line-up of original British comedy in 2019."
ABC head of comedy Rick Kalowski added: 'Frayed is among the funniest, but also most moving, pieces I've ever had the pleasure to work on.'
Published: 30 Oct 2018
What do you think?