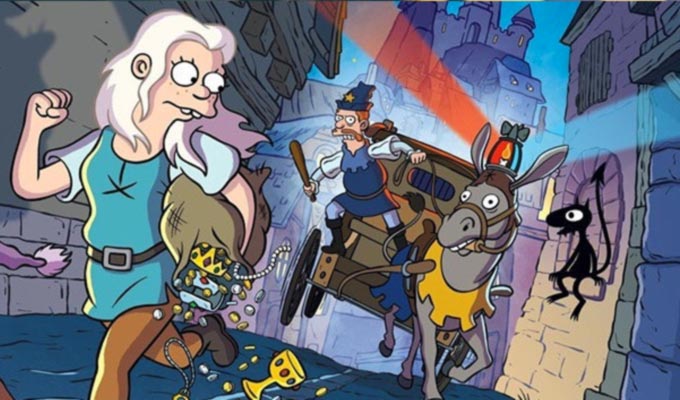 Netflix is enchanted with Disenchantment
Netflix has renewed Matt Groening's new animated comedy Disenchantment until 2021.
The streaming service has ordered 20 more episodes of the medieval fantasy series, which will air in 2020.
The first ten episodes were released in August, with another ten already scheduled for next year. Slightly confusingly, both batches together are defined as the first season.
And the 20 new episodes will roll out over the course of 2020 and 2021.
Simpsons and Futurama creator Groening said: 'We're excited to continue this epic journey with Netflix. Stay tuned for more cranked-up suspense, infuriating plot twists, and beloved characters getting knocked off."
In Disenchantment, Abbi Jacobson plays a hard-drinking teenage princess called Bean going on adventures with her companions: the optimistic elf Elfo (Nat Faxon) and her personal demon Luci (Eric Andre).
Other members of the cast include John DiMaggio, Billy West, Rich Fulcher, Matt Berry, Noel Fielding, Sharon Horgan and Lucy Montgomery.
The commission comes despite mixed reviews, which largely accused Groening of plating it safe – although many reviewers said the series improved as it progressed.
Disenchantment has a score of 64 out of 100 on reviews aggregator Rotten Tomatoes, and 55 out of 100 on Metacritic.
Published: 22 Oct 2018
What do you think?