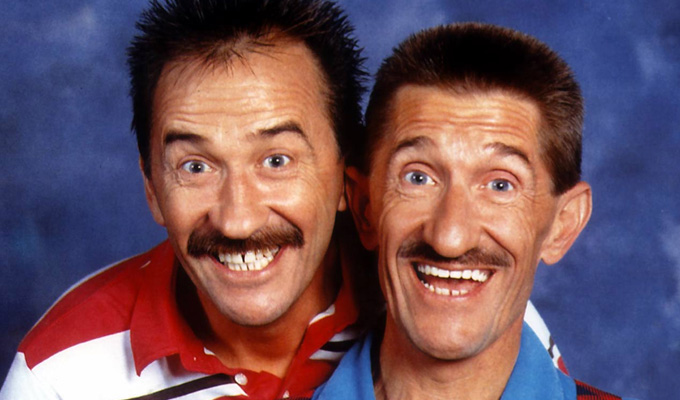 Give the Chuckle Brothers a square deal!
Chuckle Brothers fans have called on Rotherham Council to name a town centre square after the comedy duo.
Almost 600 people have signed an online petition for the tribute after the elder sibling, Barry Elliott, died last month, aged 73.
The idea has the support of his brother Paul, 70, who said: 'Nothing would give Barry, me and our Yorkshire families more pride than Chuckle Square.'
The suggestion was first mooted by the local newspaper, the Rotherham Advertiser.
Editor Andrew Mosley said: 'The abundance of tributes we received when the paper paid tribute Barry earlier this summer highlighted just how dearly the brothers are held by Rotherham people.
'Now is the time to honour their contribution… Properly done, this could provide a light-hearted feature in the town centre which should prove a very popular photo spot with everyone from families out shopping to visiting football fans.
'It could pull in tourists and could be developed further in the future, and would tie in well with the Rotherham story in general and the tradition of naming streets and areas after prominent townsfolk.'
Rotherham Council has not yet commented on the proposal.
In reporting today's news, a tweet from The Sun newspaper managed to confuse the two brothers, saying: 'Barry Chuckle's delight at calls for Rotherham to name Chuckle Square after comedy duo following brother Paul's death'
It prompted Paul to respond: 'I haven't died! Be respectful to me and my brother's memory - names matter, thank you!'
The mistake came just three days after The Sun highlighted a pantomime fan site that made the same mistake with the headline: 'Oh dear, oh dear! Paul Chuckle corrects panto blunder after tweet says his late brother Barry is starring.'
Published: 21 Sep 2018
What do you think?