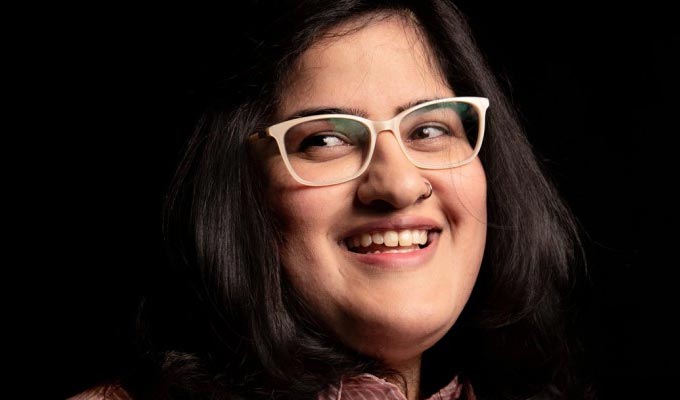 British comic Bisha K. Ali joins Four Weddings writers' room
British comedian Bisha K Ali has joined the writing team of the Four Weddings And A Funeral remake.
The 1994 film is being rebooted as a TV series by Mindy Kaling, of The Office and The Mindy Project, who yesterday tweeted an image of her writers' room to show how diverse it is.
'Love this group of humans,' she tweeted. 'All diverse and unique...and yet, we all still fit on one golf cart. #RepresentationMatters.'
Thanks for launching the #ShowUsYourRoom initiative @amidoko! This is our #FourWeddingsAndAFuneral writers crew. Love this group of humans - all diverse and unique...and yet, we all still fit on one golf cart. #RepresentationMatters. Now- other writers rooms #ShowUsYourRoom! pic.twitter.com/aSsGOUDR2r

— Mindy Kaling (@mindykaling) September 20, 2018
Ali, who was moved out to Los Angeles for the show, tweeted that it was 'a joy' to be working on the project.
She was recently selected for Bafta's 2018 Elevate programme, designed to support people from underrepresented groups in TV and film. Ali also has a pilot script called Book Club under option with production company Tiger Aspect and has been in the writers' room for Sex Education, a new comedy drama for Netflix, and Deborah Frances-White's Channel 4 topical entertainment pilot Next Week's News.
As previously announced, the Four Weddings writing team also includes fellow Brit Phoebe Walsh as well as Tracey Wigfield, whose credits include 30 Rock and the NBC sitcom Great News, which she created.
Kaling is rebooting the film as a TV series for US streaming service Hulu. It now features an African-American woman and a British-Pakistani man as the leads.
She has said that her version 'is not an adaptation telling the same story' but a different take on the concept of friends whose lives intersect through five major events.
Richard Curtis, who wrote the original film starring Hugh Grant and Andie MacDowell, will executive produce the adaptation.
Kaling said: 'What I love about the movie is the rapport between the friends, the Richard Curtis tone, the relatability of weddings, and seeing the heartbreak of one of the friends dying and the group rally for each other.'
Although the writing team is based in Los Angeles, the 12-part series will be shot in London.
Kaling's tweet came in response to writer Amanda Idoko launching a social media campaign called #ShowUsYourRoom to demonstrate the diversity – or otherwise – behind the scenes in Hollywood.
Published: 21 Sep 2018
What do you think?