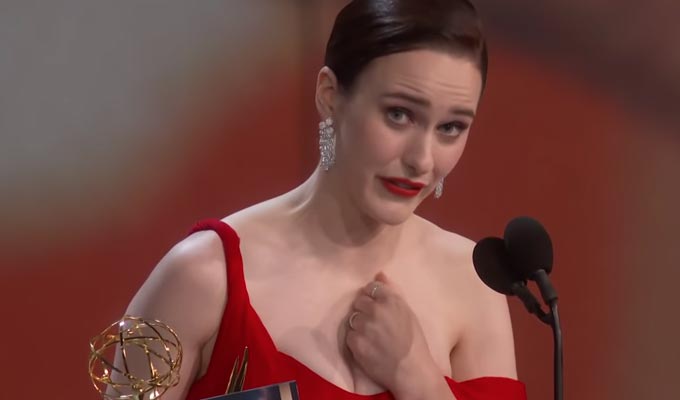 Five Emmys for Marvelous Mrs Maisel
The Marvelous Mrs. Maisel has become the first show produced by a streaming media service to win the Emmy award for best comedy.
Amazon Prime's premium comedy-drama came away with five accolades from last night's ceremony, which also honoured John Oliver and Charlie Brooker.
Mrs. Maisel star Rachel Brosnahan also won the category for best lead actor in a comedy series for her role as Midge Maisel, a 1950s Jewish housewife turned stand-up comedian.
Alex Borstein scooped the supporting actor category for playing her manager Susie, and in her unconventional acceptance speech urged women not to pee on the seats of public toilets.
Showrunner Amy Sherman-Palladino, who also created the series, won in the writing and directing categories.
Bill Hader won best lead actor in a comedy series for his role in Barry – in which he plays a hitman sent to Los Angeles on a job, but then joins the local arts scene. Henry Winkler, who plays acting coach Gene Cousineau in the series, was named best supporting actor – his first Emmy in his long career.
Brooker and his co-writer William Bridges won the Emmy for best writing for a limited series, movie of special for the USS Callister episode of Black Mirror.
Oliver's HBO show Last Week Tonight scooped the award for variety talk series for the third year running. Saturday Night Live won the variety sketch series category.
In his speech, Oliver thanked Jan Svendsen, the girlfriend of Oscars director Glenn Weiss, for saying 'yes' when Weiss proposed to her on stage after winning an Emmy for his work. 'Otherwise it could have been a very different evening,' the comedian said.
Hollywood's embrace of Hannah Gadsby also strengthened, with the comic asked to present the award for outstanding directing in a drama series to Stephen Daldry From The Crown.
The stand-up behind the acclaimed Nanette special joked: 'This is not normal! The world's gone a bit crazy. For someone like me, a nobody from nowhere to get this sweet gig – free suit, new boots - just because I don't like men. '
'That's a joke of course. Just jokes, fellas, calm down. #Notallmen. But a lot of them. It is Just Jokes but what are jokes these days? We don't know, Nobody knows what jokes are, especially not men. Am I right fellas?'
'That's why I'm presenting alone.'
A third season of The Marvelous Mrs. Maisel is in the pipeline.
Published: 18 Sep 2018
Recent News
What do you think?