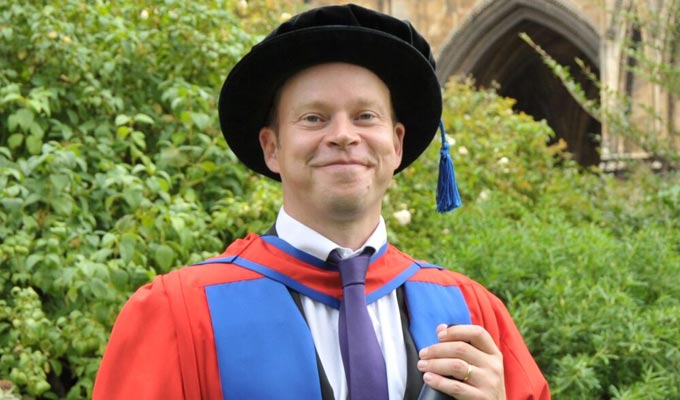 Call him Dr Robert Webb
Robert Webb has today received an honorary degree from the University of Lincoln.
The Peep Show star was awarded an honorary Doctor of Letters in the ceremony at Lincoln University.
After collecting his degree, he thanked 'whoever's zany idea it was to bestow upon me some measure of moral and intellectual respectability. They must have known I would do almost anything for an amusing hat.'
'If I can be sincere for just one second; it's been 23 years since my own graduation day and I'm going to take this is an interim report card with a really big tick on it as to what I've been doing since.
'As such, it means a great deal to me. I thank you from the bottom of my midlife crisis…. I mean heart.'
He also urged students to accept or even welcome uncertainty, as that would lead to a happier life than 'those chasing the mirage of total security'.
Webb was born and raised in Lincolnshire, and went on to study English at Robinson College, Cambridge, where he joined the Footlights and met David Mitchell.
In a statement before the ceremony, he said: 'My advice to those graduating is to find something you love and take every opportunity to practice it – and there should also be a plea for tolerance, like every good episode of Star Trek.'
Published: 11 Sep 2018
What do you think?