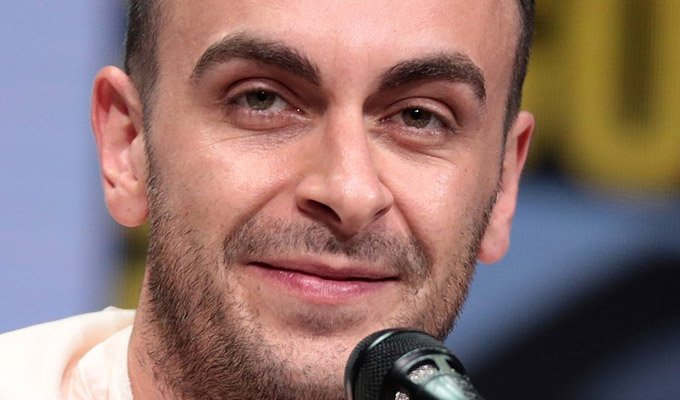 Sky makes the new Shameless
Sky is to make a new working-class comedy starring This Is England's Joe Gilgun, Ripper Street's Damien Molony and Our Girl's Michelle Keegan.
In Brassic, Molony plays Dylan, who has to decide whether to leave his Lancashire hometown of Chorley after his girlfriend Erin (Keegan) moves away, or stick around with his best mate Vinnie (Gilgun), who has bipolar disorder.
They are part of a gang that includes a champion kebab eater, a sex-crazed playboy and a stolen car dealer, all of whom scrape a living by dubious means.
Tim Key, Tom Hanson, Aaron Hefferman, Ryan Sampson, Parth Thakerar also star in the show, which is made by Calamity Films and expected to air next year.
Shooting starts on the show – which has already been likened to Shameless – next month.
It has been co-created by Gilgun, pictured, and writer Danny Brocklehurst, who has worked on Shameless and Netflix's thriller Safe.
Sky's head of comedy Jon Mountague said it was an 'authentic' and 'hilarious' show, with 'fantastic scripts complemented by an amazing cast'. He added: 'Brassic is really different – sometimes raw, often remarkable, and always human.
Gilgun said, "I'm truly humbled by the opportunity. We've got an amazing team of creators and watching it all take form has been very moving. Bipolar is a big part of my life. We want to show that you can have mental health issues and in some cases live a productive, exciting life, full of adventure.'
Brocklehurst added: 'This is a passion project for Joe and myself and we have collaborated every step of the way to create an outrageous, funny, stylistically bold show that brings to life a rarely seen northern working-class world. This is a big-hearted show about life at the sharp end of modern Britain.'
Published: 21 Aug 2018
What do you think?