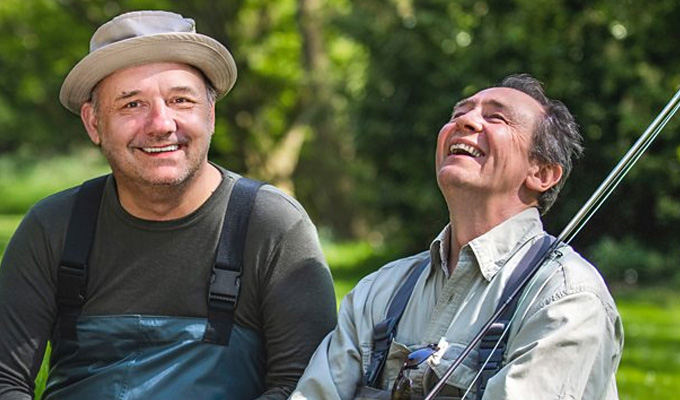 Mortimer and Whitehouse net another fishing series
The Misadventures Of Romesh Ranganathan and Mortimer And Whitehouse: Gone Fishing have both landed second series on BBC Two.
Both shows are likely to return next year.
BBC commissioner David Brindley said the shows were attempts an 'evolution of the travel genre' and 'had both been 'real summer highlights'.
He added: 'The response from critics and viewers alike has been fantastic, and often followed by "surely there will be a second series?" - well, we're thrilled to oblige.'
The Misadventures Of Romesh Ranganathan followed the comedian as he travelled beyond his comfort zone to some of the most unlikely places to go on holiday.
It proved the highest performing BBC Two factual programmes on iPlayer since 2015, with more than a million requests for the first of the three episodes/
Ranganathan said: 'While I am grateful for this show being recommissioned, it's obviously not as good as being asked to do a show called The Luxury Adventures Of Romesh Ranganathan."
Emily Hudd, joint managing director of programme-maker Rumpus Media added: 'We've loved building a creative partnership with Romesh over the past four years for the BBC - from exploring his family heritage with Asian Provocateur to hitting the road less travelled in his Misadventures.
'We're thrilled that despite risking his life and dignity multiple times in the first run, Romesh will be back bringing his uniquely smart and funny take on more of the world's unlikely tourist spots for series two.'
Mortimer And Whitehouse: Gone Fishing launched its six=part series in June with 1.8million viewers when recorded views were added, well above the average for the slot.
The show tracked Paul Whitehouse and Bob Mortimer as they visited the UK's finest angling spots and discussed their lives and thoughts, including their common experience of heart disease. Another six episodes have been ordered for 2019.
Whitehouse said: 'The response has been a little bit overwhelming. We've had the most incredible messages from people who have suffered similar issues with their hearts or have had long-term illnesses and have found something in the series that has resonated with them.
'We're really pleased that people can see the joy that fishing can bring and I'm also very proud that people who wouldn't normally watch a fishing programme can enjoy the series too."
Mortimer added: 'I absolutely loved making the series and can't wait to depart for a new set of adventures in the beautiful countryside, with wonderful company and a fresh menu of heart healthy meals... who wouldn't sign up for that?'
The suits
Both shows commissioned by: David Brindley, Head of Commissioning, Popular Factual and Factual Entertainment; and Patrick Holland, Controller, BBC Two.
Made by: Rumpus Media
Executive producers: Emily Hudd and Morgan Roberts
Commissioning editor: Catherine Catton.

Mortimer And Whitehouse: Gone Fishing
Made by: Owl Power
Executive Producer: Lisa Clark.
Published: 9 Aug 2018
What do you think?