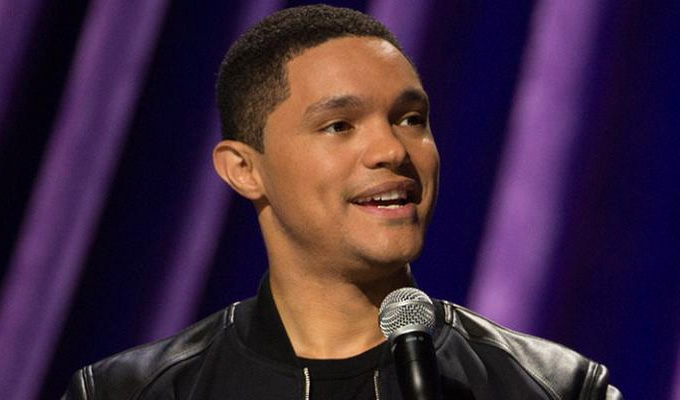 Trevor Noah blasted over racist and sexist gag
Trevor Noah has come under fire over a joke claiming people think that Aboriginal Australian women are ugly.
The Daily Show host made the gag in a 2013 stand-up show, but the footage has resurfaced on social media ahead of his tour of Australia next month – prompting calls for a boycott of his gigs,
In the clip, Noah tells his audience: 'All women of every race can be beautiful. And I know some of you are sitting there now going, "Oh Trevor, yeah, but I've never seen a beautiful Aborigine."
'Yeah, but you know what you say? You say ''yet'', that's what you say; ''yet''. Because you haven't seen all of them, right?
'Plus it's not always about looks; maybe Aborigine women do special things, maybe they'll just like, jump on top of you,'
He then makes the sound of a didgeridoo to imply oral sex.
After the backlash, Noah vowed never to make such a joke again. He said: 'After visiting Australia's Bunjilaka museum and learning about Aboriginal history first hand I vowed never to make a joke like that again. And I haven't. I'll make sure the clip from 2013 is not promoted in any way.'
The clip has since been removed from YouTube following a copyright claim from David Meyer, director of Noah's shows.
But the fact the comedian didn't apologise did not silence his critics, many of whom mocked the idea that he needed to go to a museum to learn not to be racist.
His vow came in a Twitter response to former rugby league player Joe Williams, who had called the joke 'utterly unacceptable'.
Williams wrote to Noah that 'as a man of colour, you are usually [on] point with racism & divide - here you are perpetrating & encouraging racial abuse'.
After being dissatisfied with Noah's response, he said: 'Brother, you are better than that! These comments affect all @IndigenousX women; my mother, my sisters, my daughters - your tweet reads remorse, but you didn't even apologise For a man of your stature & apparent class - our women deserve more!'
Lecturer Chelsea Bond also noted that: 'Black women had made all kinds of appeals to @Trevornoah and yet he only responded to a man. He didn't speak to us (literally or figuratively). And still to this point, he refuses to see us.'
And she added: 'Even in my anger and disappointment I'm still hoping that you will do the right thing by us or at least return to us the kind of respect that we deserve. And there is a part of me that is annoyed at myself for leaving you an opportunity to let us down again.'
Photographer LaVonne Bobonie started the campaign to boycott Noah's shows described the joke as 'horrible', while author Anita Heiss said: 'I am so disgusted and appalled by the comments by @Trevornoah and his attempted humour that denigrates Aboriginal women I hope Australians boycott his shows… That kind of 'humour' is not funny and does damage!'
Actor Tysan Towney added: '@Trevornoah for such a social justice warrior, your race baiting isn't smart or witty at all. It's simply racist. Our beautiful black women shouldn't be treated like the punchline of a joke.'
Published: 23 Jul 2018
Recent News
What do you think?