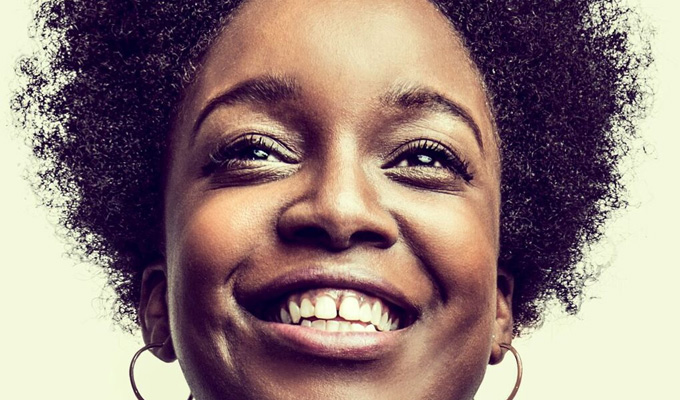 Lolly Adefope lands major US TV role
Lolly Adefope has landed a lead role in an American TV series, Chortle can reveal.
Details of the new project have been kept under wraps, but it has forced the comedian to cancel her run at the Edinburgh Fringe in August while it is being filmed.
It would be her second US role after Miracle Workers, a workplace sitcom set in Heaven, in which she stars alongside Daniel Radcliffe and Steve Buscemi.
Buscemi is God and Adefope his disgruntled assistant, Rosie, who 'hates her job because [God is] a moron… She did all the training to get to this executive position and then has no use for any of her talents and skills.'
Radcliffe plays Craig, a low-level angel responsible for dealing with humanity's prayers, in the seven-part TBS comedy which is due to air soon.
Adefope also appears in the upcoming James Bond spoof, The Spy Who Dumped Me, starring Mila Kunis and Kate McKinnon, which will be released in UK cinemas in August.
She previously starred in the Channel 4 social work comedy Damned, web millionaire sitcom Loaded and Sky football comedy Rovers.
Adefope's spokesman said today: 'Due to unforeseen filming commitments, Lolly Adefope has had to cancel her run at the Edinburgh Fringe. Lolly has landed a lead role in a US series, a process that began only days ago, and as such will be filming throughout August in the US.
'We apologise for any inconvenience caused, and anybody who had purchased tickets to the show should contact the venue [the Pleasance] or point of purchase for a refund.'
Just last week Adefope was interviewed by Vogue about what would have been her third solo Fringe run, when she gushed that the festival 'just feels like a real hub of excitement – a real, vibrant place for theatre and comedy. I think for the UK, it's the one place to be.'
Published: 28 Jun 2018
What do you think?