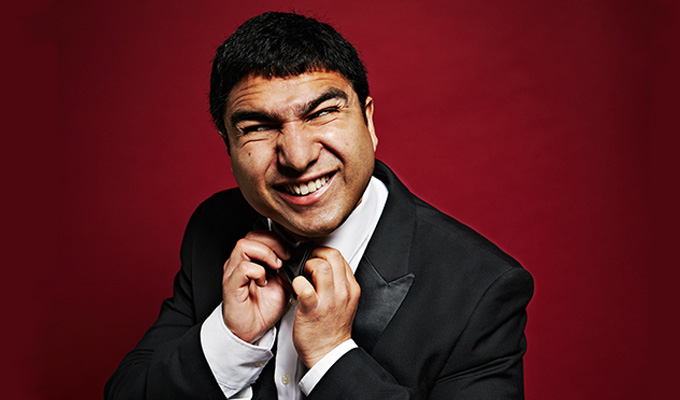 Channel 4 to pilot a Mr Swallow sitcom
Nick Mohammed is making a Mr Swallow sitcom pilot for Channel 4, in which his excitable alter-ego hosts his own chat show, Chortle can reveal.
The comic's regular collaborators David Elms and Kieran Hodgson co-star in the taster, which is being filmed this autumn by Jonny Sweet and Simon Bird's production company Guilty Party Pictures.
Mohammed has also joined Julia Davis's new Sky One comedy Sally4Ever and is writing a sitcom based on British spy headquarters GCHQ, with a big-name US sitcom star attached.
His character is returning to the Edinburgh Fringe with Mr Swallow and the Vanishing Elephant in August, his first solo show in six years.
But he told Chortle: 'It's been an absolute dream working with David and Kieran. I'm working with them still because I'm doing a Mr Swallow pilot for Channel 4, which they're very much in.
'The angle is that [Swallow has] been given a chat show but he just doesn't know what to do with it. So he's trying to handle the whole thing in a typically Mr Swallow way. But it has a band for him to berate.'
Elms and Hodgson reprise their live roles as Mr Goldsworth and Jonathan in the pilot, which will not be for broadcast, with the former acting as Mr Swallow's agent and the naïve Jonathan employed as a production runner.
'So it's very much a very familiar dynamic for anyone who's seen the live stage show, Mohammed explains. 'But very much obviously made for television'
Mr Swallow made his television debut last year in a Valentine's Day-themed short for Sky, which focused on an inept production of Romeo and Juliet.
The short encouraged Sky to commission a pilot script for a Swallow mockumentary, Overboard, 'set on a cruise ship as if he were head of entertainment' Mohammed reveals. But the satellite broadcaster passed on the chance to take the script forward.
Mohammed is currently writing his second children's novel about magic, The Young Magicians And The 24-hour Telepathy Plot, and the sitcom GCHQ for Expectation Entertainment, creators of Channel 4's new Big Narstie Show with Mo Gilligan.
'That's an ensemble piece but very much set in GCHQ,' he reveals. 'It presents GCHQ as high-tech and really efficient and good at the job. But it's all about the typical mundanity of working in is what effectively just a computer-y, office-y workplace still, with all those mundane issues that would come of just working in an office environment. But with the big stakes of national security as a backdrop'.
Mohammed voices Piglet in the new Christopher Robin movie and appears in Joe Cornish's upcoming children's film, The Kid Who Would Be King, and he will also shortly be seen alongside Miranda Hart, Jack Whitehall, Omid Djalili, Meera Syal, Helen Mirren, Kiera Knightley and Morgan Freeman in Disney's The Nutcracker and the Four Realms.
He co-wrote the breakfast television spoof Morning Has Broken with Davis for Channel 4, which was commissioned to series in 2015 but never made it to air. And he has a small role in her comedy Sally4Ever.
'I adored doing Sally4Eva' he remarks of the Sky One/HBO production, in which Davis plays a dull suburbanite who embarks on a lesbian affair. 'It's a really good cast and lots of familiar faces in terms of Julia's work and comedy in general. I play an assistant director with Seb Cardinal as the director. Julia's character is an actor.'
A spokesperson for Channel 4 confirmed that they were 'looking' at a Mr Swallow pilot but there was 'nothing confirmed currently'.
Here's the Mr Swallow Valentine's Day short:
- by Jay Richardson
Published: 27 Jun 2018
What do you think?